Courtesy of Frankies Spuntino
With spring finally here, it's time to take advantage of the many outdoor dining options in New York City. Since we last published a list of the Top 10 NYC Restaurants for Outdoor Dining, the culinary scene has exploded in Brooklyn, with must-visit restaurants by award-winning chefs, including a pizzeria with its own rooftop garden and an oyster bar that's a study in old-fashioned elegance. Though these places are excellent year-round, they truly come alive during the warmer months, when their outdoor spaces reopen and you can enjoy the fresh air.
by Laura Itzkozwitz
Laura is a New York City-based writer and editor of Untapped Cities. She has an MFA in creative writing and translation from Columbia University's School of the Arts, a BA in French from Smith College, studied in Paris for a year, and lived in Rome for two years. Her writing also appears in PolicyMic, Architizer, The Huffington Post, Business Insider, The Culture-ist, Words Without Borders, and others. She has been featured as a New York City expert blogger on Time Out New York and named one of Hotel Club's Top 20 NYC bloggers.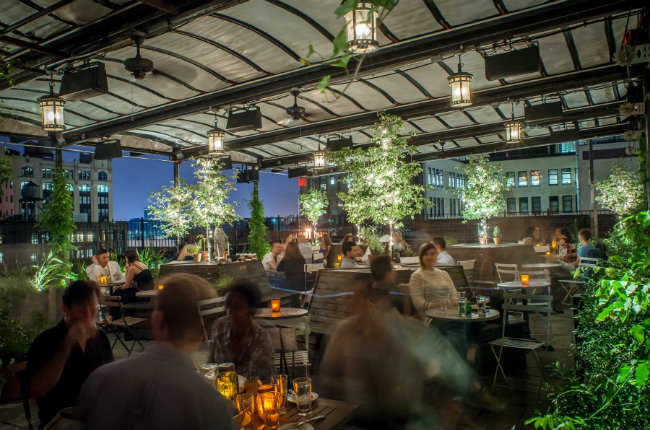 Courtesy of Gallow Green
GALLOW GREEN
WHERE: Chelsea
After entering the dark McKittrick Hotel and emerging on the rooftop, you'll feel transported to another time and place—the French countryside circa 1940, to be exact. At Gallow Green, the wooden planks of an old railroad track form a path to the bar and terrace, where little flags hang over rustic wooden tables. A vintage wagon with billowing antique lace curtains seems like it was taken from Provence. Dapper bartenders mix cocktails with fresh fruit and syrups in tincture bottles, while chic gallery goers nibble on bites like mushroom paté and crab deviled eggs. And if you need another reason to go, two words: bottomless brunch every Sunday.
Noah Fecks
GRAN ELECTRICA
WHERE: Dumbo
The location doesn't get much better than at Gran Electrica, whose patio sits in the shadow of the Manhattan Bridge. Long neglected, Dumbo is now one of Brooklyn's most vibrant and artistic neighborhoods, though it doesn't quite match Williamsburg in the culinary arena. Among the best dining spots in the neighborhood, Gran Electrica serves market-driven serves Mexican cuisine inspired by authentic street food. Inside, admire the whimsical wallpaper inspired by 19th-century Mexican illustrator José Guadalupe Posada, which features Day of the Dead-style figures in Brooklyn landscapes, then head out to the patio for beet-infused margaritas and ceviche.
Eric Graff
PURE FOOD & WINE
WHERE: Gramercy
It seems only natural that a raw vegan restaurant in New York City would have a 70-seat outdoor patio for al fresco dining. At Pure Food & Wine, healthy cuisine takes center stage as organic fruits, vegetables, and herbs are sliced, diced, whipped, and blended to perfection. Nothing is cooked over 118 degrees—in fact, the kitchen has no oven. Instead of pasta, try the zucchini and heirloom tomato lasagna, and indulge in the gluten- and dairy-free German chocolate cake. The patio is the perfect place to share a bottle of biodynamic, sustainable wine under the lights strung across the trees.
© Joreks | Dreamstime.com
LOEB BOATHOUSE
WHERE: Central Park
Nothing says classic New York than the Loeb Boathouse in Central Park. Poised on the lake in the heart of the park, the boathouse was built in 1872 by Calvert Vaux to store rowboats. At a table overlooking the lake, you'll still see people boating today, in addition to ducks, swans, and the occasional gondola. The restaurant serves classic American fare, with excellent seafood options like jumbo lump crab cakes and grilled Atlantic swordfish. Don't be surprised to spot a bride and groom—this is a popular spot for weddings and other special occasions.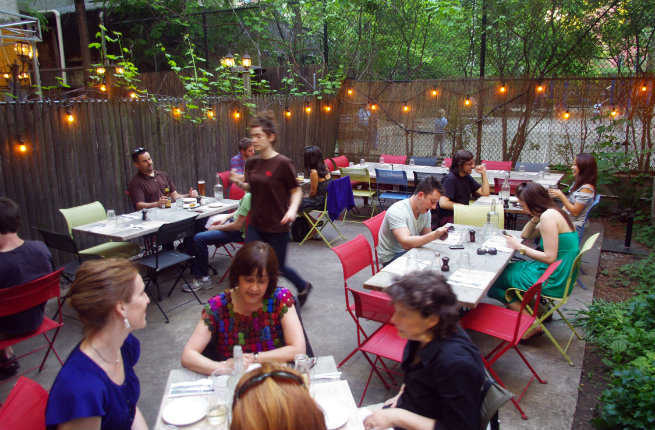 Courtesy of Back Forty
BACK FORTY
WHERE: East Village
Though it may describe itself as a burger joint, Back Forty is much more than that. Chef Peter Hoffman, who helped pioneer the slow food movement in the '90s at Savoy (now Back Forty West), has brought his culinary passion to the East Village. The meat is organic and responsibly sourced, and there are plenty of options for vegetarians, too. In the back, a large garden with colorful tables and string lights evokes the atmosphere of a backyard barbecue. Stop in for the crab boils in the garden on Tuesdays (starting in June) to fuel up before bar-hopping on St. Marks Place or in Alphabet City.
Courtesy of Frankies Spuntino
FRANKIES SPUNTINO 457
WHERE: Carroll Gardens
Owners Frank Castronovo and Frank Falcinelli renovated this former Italian social club themselves, revealing century-old brickwork once hidden by paint, and turning the old multi-car garage into a peaceful garden with fragrant herbs and flowers. Fresh and locally sourced is the name of the game at Frankies Spuntino 457, which serves traditional Italian cuisine inspired by home-cooked meals made by the chefs' grandparents. Meat comes from a West Village sausage maker founded in 1900, while Saxelby Cheesemongers on the Lower East Side provides the cheeses.
Courtesy of Edit & the Wolf
EDI & THE WOLF
WHERE: Alphabet City
The inspiration for Edi & the Wolf is the traditional Austrian wine tavern called a Heuriger. Stepping inside, you'll quickly forget you're in Alphabet City and feel transported to a rustic countryside pub where wildflowers decorate rustic wooden tables. In the partially covered garden, wisteria and vines dangle from steel trellises under a glass roof. Pair a glass of Grüner Veltliner with creative Austrian comfort food like Weiner schnitzel with potato salad and lingonberry jam, or roasted free-range chicken with broccoli, confit potato, and kumquat jam.
Courtesy of La Vara
LA VARA
WHERE: Cobble Hill
This tiny neighborhood spot in Brooklyn is frequented mostly by locals, who come for the excellent tapas and wine. Owners Alex Arij and Eder Montero hail from the Basque country, and have brought their unique take on the region's cuisine to New York City, with Txikito and El Quinto Pino in Chelsea, in addition to La Vara. It's best to reserve in advance to snag a spot in the tiny garden out back, then enjoy a balmy evening with a glass of sangria. The menu's highlights include fried artichokes with anchovy aioli; citrus and house cured salt cod salad with pistachios, egg, and pomegranate; and olive oil ice cream.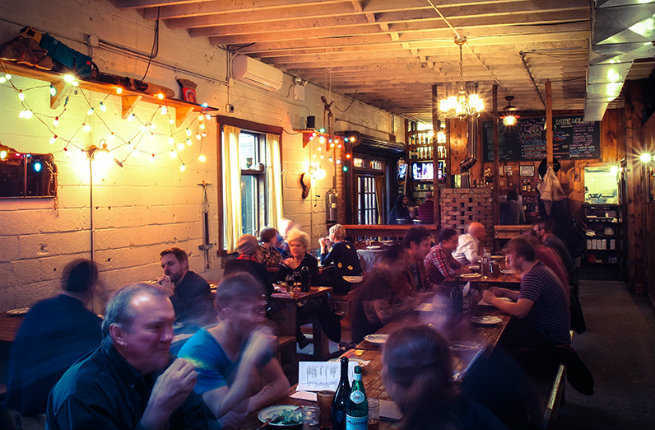 Courtesy of Roberta's
ROBERTA'S
WHERE: Bushwick
In gritty, industrial Bushwick's push toward hipness, Roberta's has been leading the neighborhood's culinary scene since it opened in 2008. Housed in a former garage, the casual eatery serves artisanal, wood-fired pizzas piled with unusual combinations like fennel, pork sausage, and pistachio. Fresh herbs and vegetables such as rainbow chard, tomatoes, basil, and mint come from the garden on the roof. The rustic-meets-industrial patio has picnic tables where artists and hipsters chow down near Manhattanites who've made the trek for the fantastic pizza. Be sure to come early, because this wildly popular place doesn't accept reservations.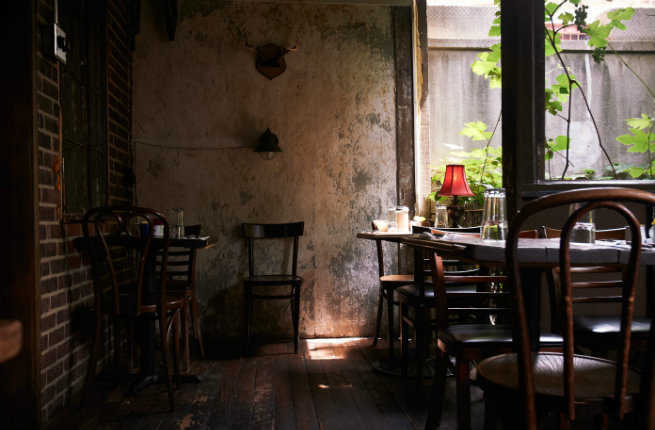 Christopher H. Grosser
EL ALMACEN
WHERE: Williamsburg
Locals often come to El Almacen without even realizing there's a garden in the back, but on a summer evening, it's the best seat in the house. String lights cast a warm glow over the tables in the enclosed garden, creating an idyllic, romantic atmosphere. This Argentinian bistro is known for its superb steaks, which come served on thick wooden chopping boards, but the paella and ceviche are delicious, too. There's a wide selection of Malbecs, and the servers are happy to help you choose the right one to pair with your dinner. For desert, the warm chocolate cake with dulce de leche ice cream is the ideal indulgence.
Melissa Horn
MAISON PREMIERE
WHERE: Williamsburg
Inspired by New Orleans speakeasies, Maison Premiere perfectly captures a far-off time and place. The marble horseshoe-shaped bar is stocked with every kind of liquor imaginable, drinks are served in vintage glasses, and waitresses wearing old lace and red lipstick bring diners oysters on antique silver platters. The long list of craft cocktails includes an entire page of absinthe-based drinks, though you can also take yours on a drip, the old-fashioned way. In warm weather, imbibe outside at antique white garden tables nestled among potted palms and ferns. With $1 oysters, Maison Premiere's happy hour is one of the best deals in the city.
Courtesy of Riverpark
RIVERPARK
WHERE: Kips Bay
Tom Colicchio's farm-to-table restaurant >Riverpark boasts superb views of the East River in addition to delicious, locally sourced cuisine. Diners can choose to sit on the patio for a more upscale environment, or on the terrace, which features communal picnic tables. Fresh vegetables that appear in dishes like the buckwheat spaghetti primavera come directly from the Riverpark Farm, one of the largest urban farms in the city. The menu changes daily, highlighting the freshest seasonal ingredients available.
Megan Hinshaw
POK POK NY
WHERE: Red Hook
Award-winning chef Andy Ricker's buzzed-about Pok Pok NY draws crowds from all corners of the city to the quiet waterfront neighborhood of Red Hook in Brooklyn. There, among the historic brick warehouses, Pok Pok serves authentic Thai cuisine inspired by the street food of Bangkok. In the garden, culinary thrill-seekers dine under yellow Singha beer umbrellas at vinyl-covered tables. Trees are covered in lights and wild grasses grow in brightly-hued plastic crates, evoking the ambiance of Southeast Asian gardens. No reservations are accepted, but if the wait is long, head next door to Ricker's Whiskey Soda Lounge for a drink.
Courtesy of Rabbithole
RABBITHOLE
WHERE: Williamsburg
Urban rustic eateries abound in Williamsburg, but few are as charming as Rabbithole. As you approach the restaurant on Bedford Avenue, a wooden sign emblazoned with a carrot greets you. In the garden, artsy types dine at mismatched vintage tables under a trellis, as the friendly host flits between tables, stopping to chat. All the pastries are made on the premises, and eggs Benedict is served on an herbed biscuit instead of the standard English muffin.