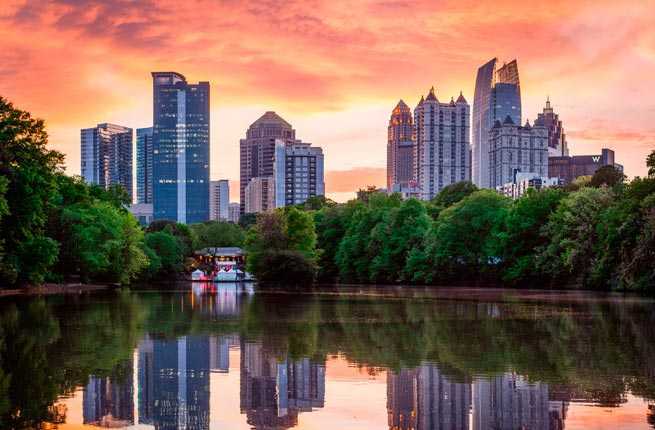 Whether you're heading to Atlanta for work or pleasure, we've got you covered with ten things not to do in the capital of the New South. This list will help you avoid some all-too-common mistakes and reveal when not to visit, where not to stay, and little-known or new places you shouldn't miss out on. Follow this expert advice on what to stay away from in Atlanta, and you'll leave having won your vacation.
By Salwa Jabado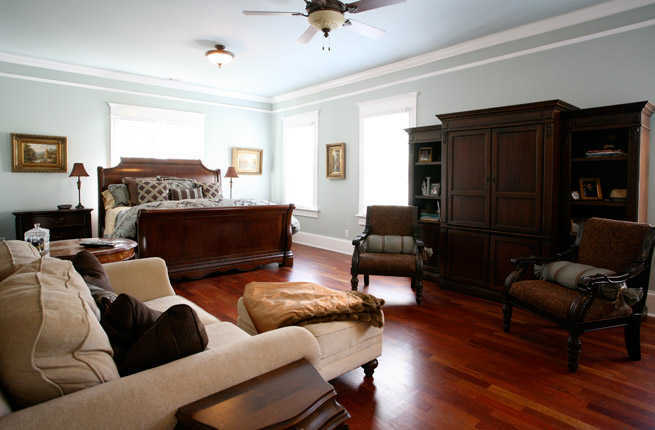 Kelley Klein
Don't Stay in Downtown
Sure, staying in Downtown has its benefits, putting you close to the main tourist sights, but mom-and-pop bed-and-breakfasts, like the Social Goat Bed and Breakfast in Grant Park, offer a more local point of view. This one even comes with resident friendly goats, chickens, turkeys, and house cats and is also walking distance to Zoo Atlanta and a short drive to historic Oakland Cemetery, where Margaret Mitchell (author of Gone with the Wind) is buried. Another unique choice is the Emory Conference Center Hotel on 26 acres of forest preserve with hiking trails. Apartment rentals are yet another option, with websites like Airbnb.com catering to those who need a little more room or who want to live like a local.
PLAN YOUR TRIP: Visit Fodor's Atlanta Travel Guide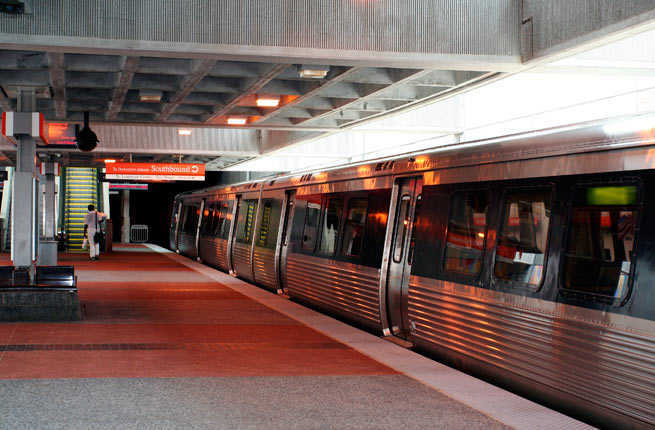 Rob Marmion / Shutterstock
Don't Get in Your Car
Atlanta's I-75 and I-85, the major arteries through the city, come with aggressive drivers and major slowdowns during rush hour. Avoid morning and evening commuting times and plan instead to spend a leisurely morning wandering near your hotel. MARTA, the city's aboveground subway, is the best way to get to and from Hartsfield-Jackson International Airport, with stops in Downtown and Midtown. The new Atlanta Streetcar links Midtown's top draws with Sweet Auburn, making a visit to the National Center for Civil and Human Rights and the King Historic District a breeze. The best part: the streetcar is free for all of 2015.
PLAN YOUR TRIP: Visit Fodor's Atlanta Travel Guide
Don't Leave the Kids at Home
Though it's a hub for business travelers, Atlanta is also an amazing place to bring the kids. Starting in Downtown, there's the Georgia Aquarium, the world's largest aquarium, with touch tanks, shows, and a giant viewing window where you're surrounded by water and sea life including whale sharks and stingrays. On a warm day, Centennial Olympic Park's fountains are perfect for cooling off—bring a bathing suit and a towel because your kids will get soaked.
Nearby is hands-on museum Imagine It! The Children's Museum of Atlanta. There's also Zoo Atlanta, which currently has cute baby gorillas (don't miss the gorilla feeding times), and the outstanding Center for Puppetry Arts, which will close at the end of May 2015 and reopen in the fall with a large expansion to house its Jim Henson Collection (its shows will continue throughout this period). Don't miss the shows and build-a-puppet workshops, which are phenomenal.
PLAN YOUR TRIP: Visit Fodor's Atlanta Travel Guide
Don't Limit Yourself to BBQ and Southern Food
To be clear, yes, you should eat barbeque and Southern food (Fox Bros. Bar-B-Q and Mary Mac's Tea Room are two classics) during your stay. But, if you consider yourself a foodie and are into authentic international food without the frills of ambiance or refined service, Atlanta's got you covered. Head to strip mall central Buford Highway for a culinary trip around the world. Buford Highway Farmer's Market is a good starting point—if your digs include a kitchen, you can buy everything you need to make an international meal here, from dragon fruit to imported olive oil. They also offer cooking classes.
For everyone else, this is the place for hard-to-find snacks and the fun of perusing an airplane-hangar-sized supermarket. Along Buford Highway, there are other great stops from Mexico to Vietnam—try the tacos at Taco Veloz, pupusas at Rincon Latino, or banh mi at Lee's Bakery (4005 Buford Hwy; 404-728-1008).
PLAN YOUR TRIP: Visit Fodor's Atlanta Travel Guide
Don't Limit Yourself to the Big-Ticket Sights
Downtown Atlanta has the four major sights on most visitor's to-do lists: the Georgia Aquarium, the World of Coca Cola, the CNN Center, and the new National Center for Civil and Human Rights, all clustered within easy walking distance of one another. If you plan to take in all four sights, get the Atlanta CityPASS, which will save money and time spent in lines.
There are also plenty of high-rise hotels in this neighborhood, making it possible to stay here and never leave. That would be a mistake, however, equivalent of coming to New York City and never leaving Times Square. The real Atlanta is in the in-town neighborhoods where locals gather. Check out the dining in Westside, the thrift-store finds in Little Five Points, and the nightlife in the Old Fourth Ward.
PLAN YOUR TRIP: Visit Fodor's Atlanta Travel Guide
Sepavo | Dreamstime.com
Don't Leave Too Little Time to Navigate Hartsfield-Jackson International Airport
Hartsfield-Jackson International Airport (ATL) is one of the world's busiest passenger airports. With an aboveground air train that takes you from the car rental area to the terminals, a subway within the actual airport, and miles of moving walkways, it can take a significant amount of time just to get to your gate. This is Delta's hub, but more than fifteen other airlines also fly into ATL. Better to be safe than sorry, so plan to arrive two hours before domestic flights (more for international).
PLAN YOUR TRIP: Visit Fodor's Atlanta Travel Guide
Don't Visit in August
With temperatures in the 80s and high humidity, Atlanta can be downright oppressive in the summer, making touring around amount to a mad dash from air-conditioned car to air-conditioned sight. Spring, however, comes early to the city, with temperatures in the mid-70s in early April. Blooming trees and shrubs are abundant (as is the pollen that accompanies them)—dogwoods and azaleas are especially noteworthy. Fall, too, is a lovely time of year and arrives later than in New England. Winters are by and large mild, but everything shuts down for the once-a-year snow flurries.
PLAN YOUR TRIP: Visit Fodor's Atlanta Travel Guide
Don't Skip the Parks and BeltLine
If Piedmont Park is Atlanta's green lung, then the new BeltLine paths have opened up arteries to oxygenate locals and visitors alike. One of our favorite BeltLine trails is the Eastside Trail beginning at Piedmont Park and ending in Inman Park. It passes through Krog Street Market, a great stop for lunch, and Ponce City Market, a multiuse space from the creators of New York's Chelsea Market. Be sure to stop at King of Pops for a gourmet popsicle along the way. Within Piedmont Park, the Atlanta Botanical Garden is another must-see and includes a cool suspension bridge walkway.
PLAN YOUR TRIP: Visit Fodor's Atlanta Travel Guide
Don't Miss Festivals and Events
Atlanta throws a good party and frequently ups the ante with visual art for sale at festivals such as the springtime Atlanta Dogwood Festival and Decatur Arts Festival. Live music is the reason to head to the Sweetwater 420 Fest (named after the hometown brewery), celebrated on Earth Day, and the Atlanta Jazz Festival, which goes on for the entire month of May. The largest indie book festival, the AJC Decatur Book Festival, fills the streets of Downtown Decatur with bibliophiles on Labor Day. Check out local alternative paper, Creative Loafing for information on what's happening when you visit.
PLAN YOUR TRIP: Visit Fodor's Atlanta Travel Guide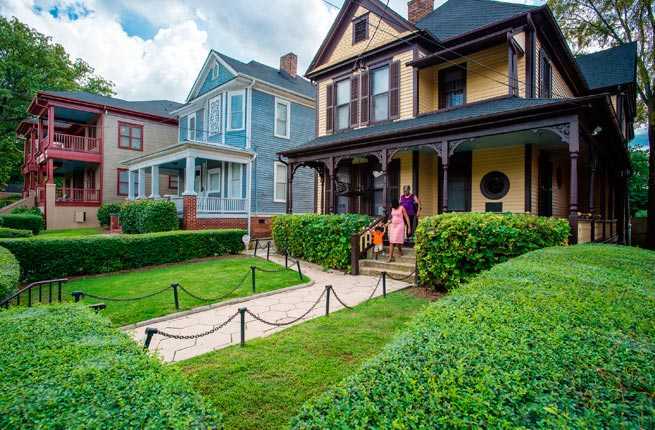 Don't Leave Without Paying Your Respects
Atlanta is a civil rights city and the birthplace of Dr. Martin Luther King Jr. As such, it's host to two must-see civil rights sights, the King Center and the new National Center for Civil and Human Rights, a beautifully designed, highly interactive museum—we challenge anyone not to be moved by the immersive lunch counter exhibit. You can tour Dr. King's birth home, as well as Ebenezer Baptist Church, where he preached. Don't leave without visiting King's tomb, the inscription reading "Free at last, free at last, thank God almighty I'm free at last." The Sweet Auburn Curb Market, which was a segregated market where African-Americans were forced to sell their wares from stalls lining the curb, makes an excellent and historic lunch stop.
PLAN YOUR TRIP: Visit Fodor's Atlanta Travel Guide