Courtesy of Mr. Holmes Bakehouse
San Francisco has long been famous for its sourdough bread, but in the past few years, the city's more innovative and eclectic bakeries have stolen the spotlight. Many of these bakeries have become destinations in their own right for carb-loving locals and visitors alike. Here's our list of of the best places to find everything from avocado toast to kouign-amann in the city by the bay.
Eric Wolfinger
Few places say artisanal baking as much as Tartine Bakery & Café. The Mission hotspot serves fresh bread and pastries from husband-and-wife team Elisabeth Prueitt and Chad Robertson, all made with local and organic ingredients. Country, Danish-style sprouted rye, and olive bread are just a few of the loaves you'll find. For breakfast, try the brioche bread pudding with seasonal fruit or a morning bun with cinnamon sugar and candied orange. Hot-pressed sandwiches for lunch include the fromage blanc and banana on walnut bread, and the sopressata with Fontina and broccoli rabe pesto. For bread that's fresh out of the oven, stop by the bakery in the afternoon. Loaves usually start appearing once the lunch crowd dies down.
PLAN YOUR TRIP: Visit Fodor's San Francisco Guide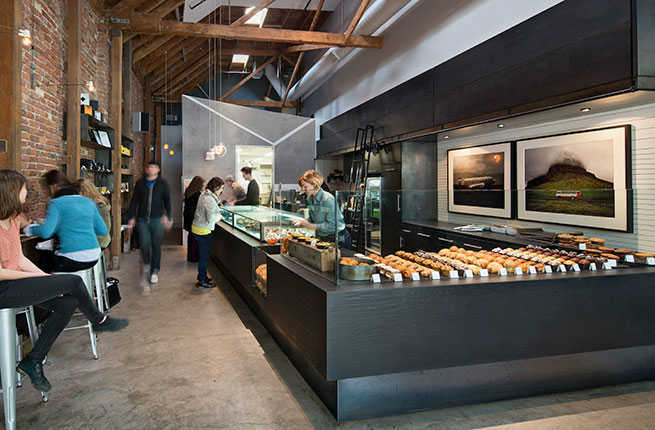 Brude Damonte
The Mission's Craftsman and Wolves does pastry its own way, and it's cultivated a loyal following in the process. Chef and owner William Werner applies his 15 years of cooking and pastry experience at the bakery, which serves everything from breakfast pastries to tarts and panna cotta. The "Rebel Within" is a social media favorite, and includes a soft-cooked egg baked into a muffin. Stop by early for breakfast and try the strawberry-dusted laminated brioche with strawberry jam from Dirty Girl Produce.
PLAN YOUR TRIP: Visit Fodor's San Francisco Guide
Alanna Hale
The Marina District's Le Marais drew inspiration from its across-town neighbor Tartine. French tradition and farm-to-table food rule at this bakery and restaurant, which serves a variety of viennoiseries, pastries, and bread. Visitors can try almond croissants, kouign-amann, and pain au chocolat et banane while taking in the French farmhouse ambiance. Bread is made with locally milled flour and organic ingredients, and all loaves are baked on site. Don't leave without picking up a levain loaf or baguette. The dough sets for 17 hours, which produces a rich flavor and loaves that stay fresh for days.
PLAN YOUR TRIP: Visit Fodor's San Francisco Guide
Vanessa Yap-Einbund
Visiting fine-dining pastry chef Belinda Leong and San Francisco Baking Institute founder Michel Suas' B. Patisserie is like walking into pastry heaven. Located in Pacific Heights, the French-inspired café and bakery is best known for its kouign-amann and bostock pastries. Visitors can also try cakes, tarts, and vanilla millefeuille, puff pastry layered with vanilla cream. The bakery also serves a range of tartines, including turkey Lyonnaise with avocado mayonnaise and ham and cheese with Gruyère. Stop by the back wall to browse a seasonal assortment of French macarons.
PLAN YOUR TRIP: Visit Fodor's San Francisco Guide
Courtesy of Mr. Holmes Bakehouse
For an irreverent bakery experience, look no further than Mr. Holmes Bakehouse. The trendy white-tiled sweet shop serves up traditional pastries with a twist. A California croissant is filled with smoked salmon, ginger, and wasabi, and a pear danish includes Pt. Reyes blue cheese. The bakery's standout item, the Cruffin, has flavors that rotate regularly. Chocolate hazelnut cronuts and cherry vanilla cronuts are two crowd-pleasers.
Insider Tip: Get to the bakery early. It opens before the cruffins, or croissant-muffin hybrids, come out, so you can buy sweet treats to eat while you wait in line.
PLAN YOUR TRIP: Visit Fodor's San Francisco Guide
Joshuaraineyphotography | Dreamstime.com
Unlike most bakeries, The Mill goes the extra mile and mills its own grains for bread. Run by self-taught artisanal baker Josey Baker, the bakery has drawn a loyal following for its toast. Visitors can go savory with a slice of the dark mountain rye bread with cream cheese, salt, and pepper, or opt for a sweeter toast like whole-wheat sesame poppy bread with pluot jam.
Insider Tip: The bakery hosts grilled cheese and soup nights on Wednesdays. Past pairings include roasted broccoli and cauliflower and Meyer lemon keffir.
PLAN YOUR TRIP: Visit Fodor's San Francisco Guide
Karl Nielsen Photography
Small-batch baking is the name of the game at Batter Bakery. Owner Jen Musty's passion for baking powers the sweet shop, which relies on local farmers and seasonal ingredients to create its pastries. Try the ginger cranberry scone or a slice of the banana chocolate hazelnut bread for breakfast. Cookie options are nearly endless and include chocolate chip, oatmeal coconut, and triple chocolate espresso. The bakery's shortbread comes in squares and a box of minis, and includes unique flavors such as bacon date cornmeal, Meyer lemon pink salt, and lavender sea salt.
PLAN YOUR TRIP: Visit Fodor's San Francisco Guide
Molly DeCoudreaux Photography
It's a family affair at Marla Bakery. The bakery's name comes from the first letters of the names of family members who taught owners Amy Brown and Joe Wolf how to cook and bake. The bakery serves locally sourced fare, fresh loaves, and a variety of pastry. Try the cardamom-spiced coffee cake or the pain au chocolat with candied orange for breakfast. For lunch, the "Marla Tartine" with white bean purée, avocado, lemon confit, and arugula on walnut toast does not disappoint.
Insider Tip: The Marla bun looks unassuming, but don't let its appearance fool you. Soft pastry, crisp edges, and notes of caramel make this bun a must-try item.
PLAN YOUR TRIP: Visit Fodor's San Francisco Guide
Traditional Eastern European delicacies find a home at 20th Century Café. Owner and baker Michelle Polzine traveled through Vienna, Budapest, and Prague to get inspiration for her sweet treats and food. Located in Hayes Valley, the bakery serves everything from poppy seed babka to pierogi with Damson plum preserve. Lunch service starts just before noon and dishes include duck liver mousse with radishes and toast and wild boar sausage with sauerkraut and apple butter. For dessert, don't miss the Russian honey cake, a multilayered concoction made of cake and honey buttercream frosting.
PLAN YOUR TRIP: Visit Fodor's San Francisco Guide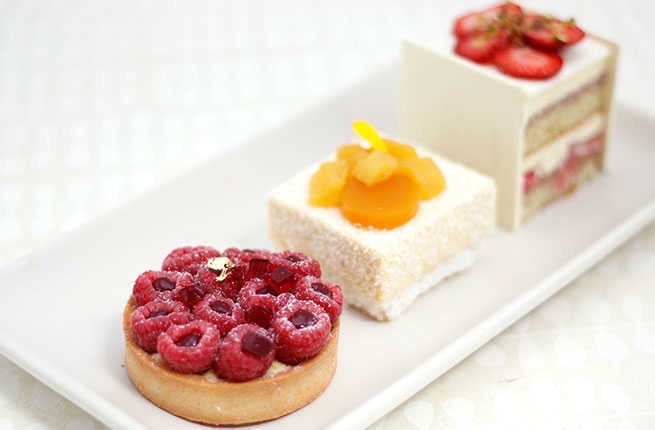 Tout Sweet

At Tout Sweet, local ingredients and international inspiration play a big role. The bakery gets most of its produce from the local farmers' market but draws its inspiration from flavors and techniques from around the world. Under the direction of executive chef Yigit Pura, the bakery serves high-end macarons, cookies, and pastries in addition to individual desserts and larger cakes. Macaron flavors range from Sicilian pistachio and Ceylon cinnamon to Tahitian Madagascar vanilla bean. Don't miss the Nutella-stuffed sugar buns for breakfast. To start your morning on the savory side, try the bacon-smoked cheddar-chili flake scone, a buttery, delicious combination of locally sourced bacon, smoked cheddar, and chili flakes.
PLAN YOUR TRIP: Visit Fodor's San Francisco Guide