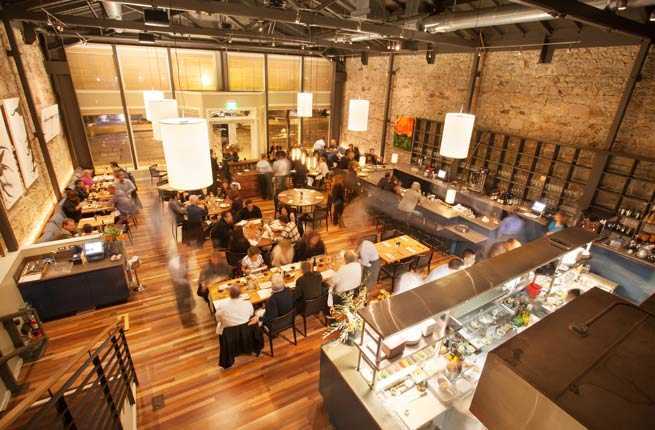 Andy Berry
Dormant vines and an ongoing drought rendered the Napa Valley countryside a bleak brown as winter 2014 began, but with new ventures sprouting up all over Napa, the wine region's largest city, the mood downtown has been upbeat—almost springlike. Three local chefs have debuted new projects, the old police station now houses a spa, a former NFL coach and a celebrated female winemaker opened new tasting rooms, and lovers of distilled spirits, olive oil, and gluten-free cooking have new places to visit. Check out our 10 reasons to visit Napa this winter.
By Daniel Mangin
Lucidwaters/Dreamstime.com
Cate and Co.
WHERE: Oxbow Public Market, Downtown Napa
Catherine "Cate" Bergen, a perennial Michelin Bib Gourmand award winner for her 21st-century taqueria C CASA at the Oxbow Public Market, opened Cate & Co., a gluten-free bake shop at the market in late December. Judging by the patrons lining up for her breads, pastries, and sandwiches, Bergen is well on her way toward fulfilling her mission "to change people's impressions of what gluten-free can be." 610 1st St., 707/226–1940.
Insider Tip: The early favorites include the Vietnamese-style chicken bánh mì sandwiches slathered with a sweet chicken-liver mousse, and the homemade, handcrafted potato chips.
PLAN YOUR TRIP: Visit Fodor's Napa and Sonoma Guide
Inn on Randolph
WHERE: Downtown Napa
A formerly dowdy B&B located a few quiet blocks from the downtown action, the restored Inn on Randolph is now a sophisticated haven celebrated for its gluten-free breakfasts and snacks. Well-placed splashes of color jazz up the earth tones of the plush 'n' cozy accommodations—five rooms in the main Victorian-era structure and five historic cottages. 411 Randolph St., 707/257–2886.
Insider Tip: Even if you don't enroll in one of the weekend cooking seminars owner Karen Lynch hosts, she'll be delighted to share the recipe for the gluten-free chocolate-chip cookies guests snap up all day.
PLAN YOUR TRIP: Visit Fodor's Napa and Sonoma Guide
Lucero Olive Oil
WHERE: Downtown Napa
Its stylish facility and entertaining tastings of olive oils and balsamic vinegars make Lucero worth checking out. You'll learn to recognize the subtle differences between the various extra virgin and infused oils, some of which are so flavorful, they even go well with ice cream. 1012 1st St., 707/255–4645.
Insider Tip: Poster boards behind the tasting counter relate the Lucero story. Owner Dewey Lucero quit his engineering career to transform his grandfather and father's olive-oil-making hobby into this promising enterprise.
PLAN YOUR TRIP: Visit Fodor's Napa and Sonoma Guide
Courtesy 1313 Main
LuLu's Kitchen
WHERE: Downtown Napa
Chef Isaac Coles scored an instant hit when he opened the small-plates restaurant LuLu's Kitchen inside the chic wine bar and nightspot 1313 Main. The fare varies from the classic (mini lobster rolls) to the intricate (shaved black truffle with ricotta) to the highly whimsical (s'mores semifreddo, the chef's fanciful take on the kids' dessert favorite). 1313 Main St., 707/258–1313.
Insider Tip: LuLu's serves its succulent burgers on English muffins from the Oxbow Public Market's Model Bakery. If the muffins haven't sold out, you can pick up a half dozen (sometimes the limit because they're so popular) there.
PLAN YOUR TRIP: Visit Fodor's Napa and Sonoma Guide
Courtesy of Oxbow Public Market
Napa Valley Distillery
WHERE: Oxbow Public Market, Downtown Napa
Less than a decade old, the Napa Valley Distillery, another new Oxbow tenant, has won major awards for its Napa Vodka, made from Sauvignon Blanc grapes, and limoncello-like Meyer Lemon Liqueur. Thanks to a California law that rang in with the new year, you can taste small samples of NVD's spirits, liqueurs, and smooth-as-silk, barrel-aged cocktails. 610 1st St., 707/226–9269.
Insider Tip: Tasting spirits isn't like tasting wine. No swirling before sipping—that just volatizes (activates) the alcohol, making it harder to experience flavor. No spitting either: to fully appreciate a fine spirit you need to swallow.
PLAN YOUR TRIP: Visit Fodor's Napa and Sonoma Guide
Taylor Fulton
Napkins Bar and Grill
WHERE: Downtown Napa
With a waterfall light show and backlit photos of historic Napa, glitzy Napkins mesmerized locals from the day it opened (New Year's Eve). Chef Michael Benjamin Powell, already a star for Tarla Mediterranean Grill, raises the town's bar-food ante with blackened bison sliders, venison 12-pepper chili, and other small bites. His chicken and malfatti entrée, meanwhile, pays homage to a 1920s variation on ravioli invented in Napa. 1001 2nd St., 707-927-5333.
Insider Tip: Mixologist Mike Saint Lawrence scored hits with his frisky "bloody pirate"—a Bloody Mary adaptation with the juice of sweet red peppers instead of tomato juice—and ginger mai tai.
PLAN YOUR TRIP: Visit Fodor's Napa and Sonoma Guide
The Spa at the Napa River Inn
WHERE: Napa River Inn, Downtown Napa
All stress will be under arrest after a massage, facial, or other treatment at The Spa at the Napa River Inn, which occupies Napa's vaguely late-Deco former police station. The signature Royal Treatment ($425 for 5 hours) includes a full-body massage, foot rehab, exfoliation, and a wrap, plus a grape-seed facial that pulls out all the antioxidant stops. For a heavy-duty deep-tissue massage, ask for Anthony. 500 Main St., 707/265–7537.
Insider Tip: If you're traveling with a dog in need of some TLC, the spa will pamper your pet with a walk, a treat, and a mini massage while you're indulging yourself.
PLAN YOUR TRIP: Visit Fodor's Napa and Sonoma Guide
Courtesy of St. Clair Brown Winery
St. Clair Brown Winery
WHERE: Downtown Napa
On a chilly winter's day, few spaces are more appealing than the greenhouse tasting room at St. Clair Brown Winery, where Elaine St. Clair pairs her elegant wines with addictive appetizers such as almonds roasted with rosemary, cumin, and Meyer lemon juice. You can order wines by the glass or half-glass, or opt for the four-wine sampler. The whites are refreshing and accessible yet also complex; among the reds, the Coombsville Syrah is the clear winner. 850 Vallejo St., 707/255–5591.
Insider Tip: Perfect for a respite from touring or shopping, the tasting room stays open until 8 pm.
PLAN YOUR TRIP: Visit Fodor's Napa and Sonoma Guide
Andy Berry
Torc
WHERE: Downtown Napa
It took a mere five autumn weeks to transform the industrial-sleek space vacated by a beloved vegetarian restaurant into eclectic Torc. The name means "wild boar" in an early Celtic dialect, and chef Sean O'Toole, formerly of nearby Yountville's swank Bardessono hotel, incorporates his restaurant's namesake beast into an inventive Bolognese sauce whose ingredients include lime and cocoa. Everything here is prepared with a style and precision the service also lives up to. 1140 Main St., 707/252–3292.
Insider Tip: The Bengali sweet potato pakora, which comes with a dreamy-creamy yogurt-truffle dip, is the crowd-pleasing starter.
PLAN YOUR TRIP: Visit Fodor's Napa and Sonoma Guide
Courtesy of Vermeil Wines
Vermeil Wines
WHERE: Downtown Napa
As a National Football League coach Dick Vermeil, a Napa Valley native, relied on savvy veterans, and he does the same with Vermeil Wines. Winemaker Paul Smith, whose resume includes stints at the renowned Joseph Phelps and Robert Mondavi wineries, crafts restrained, old-style Cabernet Sauvignons, Zinfandels, and other wines that satisfy critics and connoisseurs. 1018 1st St., 707/254–9881.
Insider Tip: At Vermeil's recently opened Napa tasting room, the paraphernalia on display includes the Super Bowl XXXIV trophy he won with the Rams.
PLAN YOUR TRIP: Visit Fodor's Napa and Sonoma Guide