Family owned and operated since 1994, The Round House is a historic (1832) oceanfront manse turned B&B inn that was strategically built on an oceanfront cliff. The Atlantic surf pounds relentlessly on the remote, rugged east coast of Barbados, and the views from this inn and its restaurant—indeed, from three of the four guestrooms—are consistently mesmerizing. Intimate, quiet, and peaceful, this is a perfect spot for: 1) anyone looking to truly get away from it all; or 2) serious surfers who want close proximity to one of the world's best surfing locations. So bring your binoculars and a good book—or your board.
YOU SHOULD KNOW The hotel closes from September 15-October 15.
room
Each of the inn's four guestrooms is unique in terms of architecture, location, and size. Room 1 has a single bed, a courtyard view, semi-private deck space, and direct access to the rooftop lounge area. Rooms 2 and 3 each have a queen bed, a kitchenette area with mini-fridge, a stunning ocean view, skylights, and access to the rooftop. Room 3, which is circular, also has a private oceanfront patio with a tiny pool. Room 4 is the largest, with a king bed, a kitchenette area and mini-fridge, 180° ocean view, skylights, a private staircase leading to the room, access to the rooftop, and two balconies: one facing due east; the other, northwest. The room furnishings in all rooms are rather basic…rustic, shall we say.
YOU SHOULD KNOW Rooms have ceiling fans but no air-conditioning; however, the strong, ever-present ocean breeze provides "natural air-conditioning." And there are no room TVs or telephones.
bathroom
All of the bathrooms in this historic inn are small and old-fashioned. All have showers, no tubs.
YOU SHOULD KNOW Water here is solar-heated, so it's usually cold in the morning and warm in the afternoon.
lobby
At the entrance to the hotel and restaurant, there's a fascinating shop where guests can browse or buy original artwork by local and regional artists, as well as miscellaneous collectibles (vintage toys, vinyl records, old glass bottles, and other curios) and antique Barbadian furniture or English china.
pool
The only "pool" is a tiny plunge pool on the patio outside room 3.
dining
The Round House Restaurant serves breakfast (included for guests), lunch, and early dinner—the kitchen closes at 7:30 p.m., except for Friday when it closes at 4 p.m. The menu features Bajan cuisine, such as a classic flying fish sandwich on local salt bread, with breadfruit chips or a side of macaroni pie, or the national dish of steamed flying fish in a rich broth with cou-cou and fried plantain. You're sure to find something tempting among the variety of sandwiches, burgers, salads, sides, and full meals. Inside or on the patio, you'll always have a spectacular ocean view.
The restaurant is small, and it's a popular lunchtime stop for people touring the east coast. It's a good idea to make a reservation if you don't want to wait—although you'll never get tired of looking at the view.
drinking
The restaurant has a small bar, which closes around 9:30 p.m. every night but Friday, when (like the restaurant) it closes at 4 p.m.
beach
A small path leads down to the beach, which is great for walking but not safe for swimming—except for surfers who consider the Bathsheba Soup Bowl one of the world's best "waves." The Atlantic Ocean's crashing surf and dangerous undercurrents make the water much too rough for casual swimmers.
It's okay to wade in the small tide pools that appear along the shoreline from time to time.
LOCATION
Getting Around
You'll definitely want a rental car unless you're content to stay put, read a book, stare at the sea, and take long walks. Regular bus service is available, and taxis can be called. Make sure you request a taxi well ahead of the time you want to depart, though, as this is a very remote location.
Restaurants
The Atlantis Restaurant (15-minute walk), in the Atlantis Hotel, is nearby and also on the oceanfront at Tent Bay. Come for the Bajan buffet luncheon on Wednesday or Sunday or anytime for a delicious meal and stunning ocean view. At night—especially on Friday when The Round House Restaurant is closed for dinner—you'll want to drive to The Atlantis, as the road is narrow, hilly, and dark.
Bars
The Atlantis Hotel (5-minute drive) has a bar and lounge area, adjacent to its oceanfront dining room, where patrons—whether or not they're having a meal—can have a tropical cocktail or other beverage. It's a pleasant walk from the Round House during the day, but plan to drive after dark—which means don't drink too much alcohol, as the roads here are dark and winding.
WHY WE LIKE IT
The Round House is one of only three lodging options—and the smallest—on the island's remote east coast. The views are stunning, the atmosphere is quiet and peaceful, and the rooms are a bit quirky.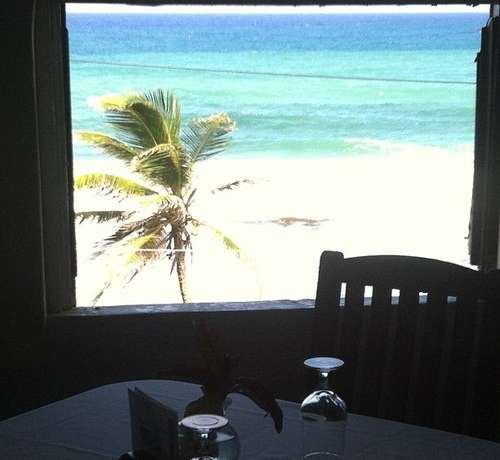 QUICK FACTS
HOTEL INFO
Phones: 246-433–9079
People also liked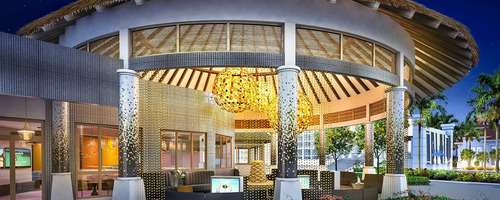 $$$ | Maxwell Coast Rd.
This second Sandals resort on the island is truly lovely. Read More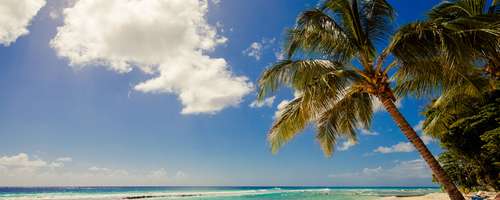 $$ | Hwy. 7, Hastings Main Rd.
It's an all-inclusive resort for couples, friends traveling together,... Read More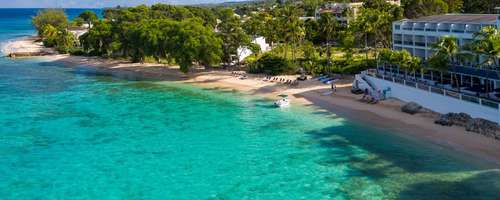 $$ | Hwy. 1
A small, casual, all-inclusive hotel on the beach with easy access to... Read More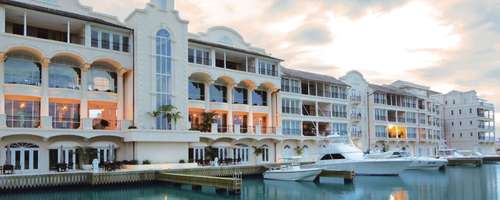 $$$$ | West Coast | Hwy. 1B
Call this "home away from home"—if you live in a luxury apartment with... Read More
$ | South Coast | Hwy. 7, Hastings Main Rd.
Convenience, comfort, and value…sometimes that's exactly what you want... Read More
$$ | South Coast | Enterprise Beach Rd.
The Algarve? Tuscany? Nope, this Mediterranean-style villa is on the s... Read More