MOLPIX / Shutterstock
With its dramatic waterfront setting, hilly terrain, and dazzling skyline, Hong Kong is nothing if not picturesque. But there's much more to see in this thrilling metropolis than its iconic city center, like 260 islands, gorgeous hiking paths, and some of the most beautiful beaches in the world. Fortunately, Hong Kong has no shortage of vantage points where you can take in all the awe-inspiring sights, both natural and man-made. From rooftop bars to mountain peaks, here's where you can see 10 of Hong Kong's best views.
By Michael Alan Connelly
Michael is the Editor of Fodors.com. Follow him on Twitter and Instagram.
Michael Alan Connelly
Shek O Peak
WHERE: Southside
Rising 931 feet into the sky, Shek O Peak is the most breathtaking vantage point on the Dragon's Back, so named for this hiking trail's undulating curves across the hilly terrain of Shek O Country Park. Located in Stage 8 of the Hong Kong Trail, a 31-mile path that cuts across five country parks on Hong Kong Island, the Dragon's Back is simultaneously one of the most difficult parts of the trail and one of the most popular. Rest assured the views from Shek O Peak are worth the sweat and hardship; depending on which direction you face, you can see the verdant countryside, Tai Tam Bay and Stanley Peninsula, or the beach at Shek O and the glittering waters of the South China Sea.
PLAN YOUR TRIP: Visit Fodor's Hong Kong Travel Guide
The Ritz-Carlton Hong Kong
Ozone
WHERE: West Kowloon
Not only the highest bar in Hong Kong, Ozone also has the distinction of being the highest bar in all of Asia—no surprise given that it's part of The Ritz-Carlton Hong Kong, the world's highest hotel. Located on the 118th floor of the International Commerce Centre, this posh spot affords patrons unmatched views of Victoria Harbour and Hong Kong Island. If the weather is right, you can enjoy your cocktails and Asian tapas on the outdoor terrace, but the sleek interior is a fine place to feel glam while perusing the high-powered wine list. Be forewarned that Ozone's extreme height often leads to views being obscured by clouds or smog, but on a perfectly clear night, nothing else compares to what you'll see here.
PLAN YOUR TRIP: Visit Fodor's Hong Kong Travel Guide
Michael Alan Connelly
High Island Reservoir East Dam
WHERE: Sai Kung Peninsula
Comprised of eight areas in two separate regions, the Hong Kong Global Geopark of China is home to some rather unique geological formations. On High Island, in particular, you can see one-of-a-kind rock formations in hexagonal columns, pointing to the region's active volcanic past. Adjacent to these natural wonders is a man-made one: the East Dam. Opened in 1978 to prevent water shortages, the dam sits between High Island Reservoir and the South China Sea. Its striking appearance is only heightened by the presence of interlocking concrete dolosse, designed to prevent erosion, which have the unintentional appearance of a massive public art installation.
PLAN YOUR TRIP: Visit Fodor's Hong Kong Travel Guide
MOLPIX / Shutterstock
Ngong Ping 360 Cable Car
WHERE: Lantau Island
West of the city lies the green countryside of Lantau Island, whose most famous attraction is the Tian Tan Buddha (also known as the Big Buddha), 202-ton statue of the seated deity. The best way to get there is the Ngong Ping 360 cable car, which takes visitors on a 25-minute, 3.5 mile ride high above Tung Chung Bay and mountainous terrain, offering views of North Lantau Country Park, Hong Kong International Airport, the vast South China Sea, and, long before you see it up-close, the Big Buddha. For maximum thrills, book the Crystal Cabin, which features a transparent floor that gives the illusion of flying over land and water.
PLAN YOUR TRIP: Visit Fodor's Hong Kong Travel Guide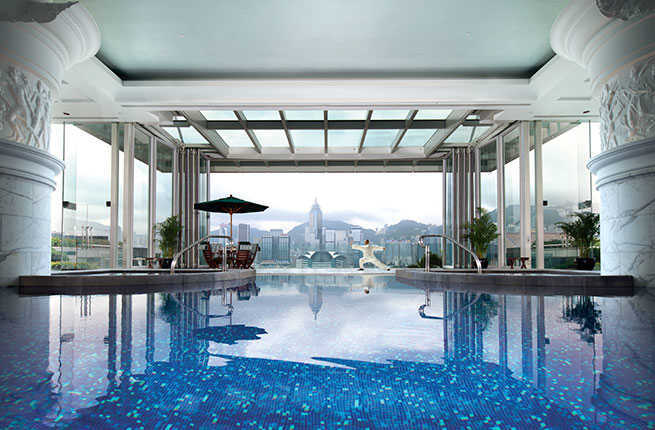 The Peninsula Hong Kong
The Pool at the Peninsula Hong Kong
WHERE: Tsim Sha Tsui
Care for a killer view with your morning swim? Look no further than The Peninsula Hong Kong, where the pool is decorated with Greco-Roman–inspired columns and friezes that appear in sharp contrast to the ultramodern skyscrapers across the harbor. When the weather is nice, the pool's glass doors open up to allow for unimpeded views of Hong Kong Island. There's also an outdoor terrace where you can take it all in when you're done with your laps.
PLAN YOUR TRIP: Fodor's Hong Kong Travel Guide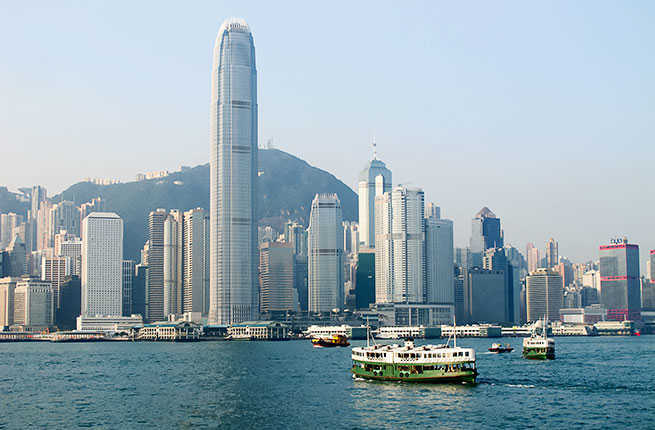 Fedor Selivanov / Shutterstock
Star Ferry
WHERE: Tsim Sha Tsui
One of the best ways to see Hong Kong is to take a boat ride on Victoria Harbour, and one of the best ways to do that is to hop on a Star Ferry, evident in the fact that this small fleet transports more than 20 million people every year. For a nominal fee, riders get to enjoy one of the most scenic ferry rides in the world, with the added bonus of seeing the waterfronts of Kowloon and Hong Kong Island simultaneously, which is impossible when you're on land. There are certainly faster ways to get from one side of the harbor to the other, but none are as enjoyable or classic as the Star Ferry.
PLAN YOUR TRIP: Visit Fodor's Hong Kong Travel Guide
Michael Alan Connelly
Shek O Beach
WHERE: Southside
One underappreciated aspect of Hong Kong is that in less than an hour, you can travel from its hectic center to tranquil stretches of sand fronting brilliantly blue, balmy waters. And while there's no shortage of beautiful beaches here, the one at Shek O stands out for its scenery. That's because the island of Ng Fan Chau rises dramatically from the water just offshore; farther in the distance is Sung Kong and Waglan Island, both members of the Po Toi Islands.
PLAN YOUR TRIP: Visit Fodor's Hong Kong Travel Guide
leungchopan / Shutterstock
Victoria Peak
WHERE: Central
Arguably Hong Kong's most famous attraction, Victoria Peak rises 1,805 feet above sea level and overlooks Central and the city beyond. Reaching the top requires a seven-minute ride on the Peak Tram, the world's steepest funicular railway. On clear days you can see Kowloon's eight mountains, but the nighttime views of both sides of the harbor illuminated is equally stunning.
PLAN YOUR TRIP: Visit Fodor's Hong Kong Travel Guide
Michael Alan Connelly
ABOVE at Ovolo Southside
WHERE: Southside
Tucked away in Wong Chuk Hang, an industrial district that's home to indie shops and a burgeoning art-gallery scene, Ovolo Southside opened less than a year ago in a converted warehouse and is one of only two officially designated Design Hotels in all of Hong Kong. Like any hip hotel, this one has a rooftop bar with well-mixed cocktails and a cooler-than-thou soundtrack, but the views are a bit different from many other rooftop establishments in the city. Here, you can spot rolling green hills, Deep Water Bay, cable cars taking families up to Ocean Park, and the new MTR station (set to open this year) that will soon turn this neighborhood into a veritable hot spot.
PLAN YOUR TRIP: Visit Fodor's Hong Kong Travel Guide
InterContinental Hong Kong
The Lobby Lounge at InterContinental Hong Kong
WHERE: Tsim Sha Tsui
Situated at the southern tip of the Kowloon peninsula, InterContinental Hong Kong features front-row harbor views in most of its guestrooms, but you don't need to stay the night to enjoy a peek. With dramatic floor-to-ceiling windows, the Lobby Lounge is an elegant, subdued place to grab a drink or a meal, with a backdrop that looks great no matter what time it is, though it's a popular place to be during the nightly Symphony of Lights show that briefly takes over the skyline. For a classic Hong Kong experience, make a reservation for high tea in the Lobby Lounge; the one offered here is among the city's best.
PLAN YOUR TRIP: Visit Fodor's Hong Kong Travel Guide