Courtesy of Perurail
There are two types of train rides in this world: those that merely get you from one place to another, and those that redefine what it means to travel by rail. Whether it's the regal opulence of India's Maharajas Express, black-tie evenings onboard the Venice Simplon-Orient-Express, or panoramic views of Peru's countryside from the Andean Explorer, there is a wealth of one-of-a-kind train journeys in this world. Here are 10 of the best of them.
By Anisha Shah
Anisha Shah is a luxury and emerging destinations travel journalist. Her background as a BBC TV and radio news reporter, combined with a longstanding love affair with travel, sees her first on the scene of new and exciting travel hot spots. Her work has appeared in The Huffington Post, Fodor's, and Yahoo Travel. Follow Anisha on Twitter: @anishahbbc.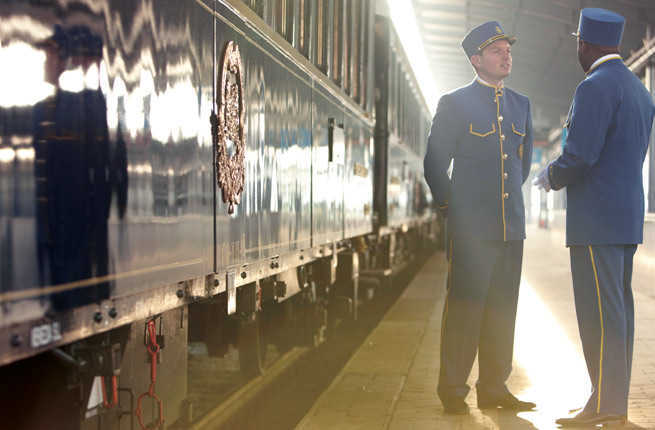 Mark Hind/Orient-Express Hotels Ltd.
Venice Simplon-Orient-Express
WHERE: France and Italy
Sophistication, splendor, and comfort converge in the elegantly appointed carriages of this iconic Orient Express route, decked out by celebrated interior designers from the 1920s and 30s. Onboard, you'll travel from Paris to Venice over two days, feeling glamorous in a world of sumptuous cuisine, and haute service. Black-tie evenings keep things refined as you sip Champagne from sparkling crystal and enjoy meals on polished silver.
Best Time to Travel: March–November
PLAN YOUR TRIP: Visit Venice Simplon-Orient Express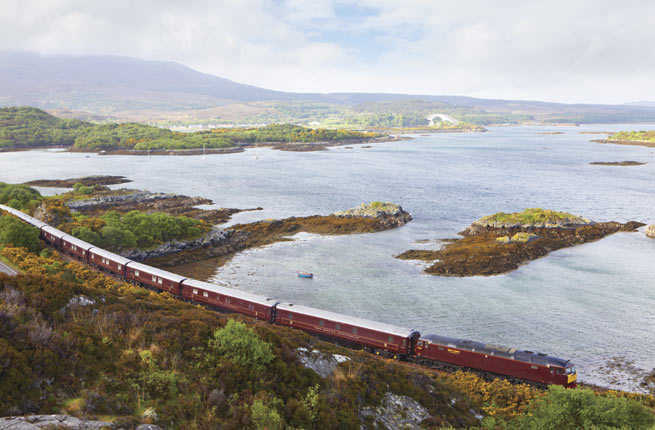 Matt Hind/Orient-Express Hotels Ltd.
WHERE: Scotland
Pomp and circumstance surround this regal trip. Passengers are welcomed with a red carpet, kilt-clad bagpipers, and a Champagne reception in the observation car, which dates to 1908. One-to-seven-day tours of West England depart from London or Edinburgh. En route, special visits are arranged to castles, museums, stately homes, and gardens, while the voyage offers elite views of the famed Northern Highlands. Hors d'oeuvres and cocktails are served in a car outfitted with plush armchairs and a classical music trio.
Best Time to Visit: April–October
PLAN YOUR TRIP: Visit Royal Scotsman
Courtesy of Perurail
WHERE: Peru
In the Peruvian Andes, dramatic drops give way to rivers, gorges, and lush greenery. Panoramic views are best enjoyed from the comfort of the exquisite Pullman carriages of the Andean Explorer. Connecting Cusco, the heart of the once-mighty Inca Empire, with the shimmering navy blues of infinite Lake Titicaca, the voyage slips past Aguas Calientes, the jumping-off point for Machu Picchu. The 281-kilometer, 10-hour trip takes journeyers through the most climactic zones of the Andes.
Best Time to Visit: June–September
PLAN YOUR TRIP: Visit Andean Explorer
(c) Ryszard | Dreamstime.com
WHERE: Ecuador
This is where Ecuador's historic railway started with its first foray between coastal Guayaquil and the highlands of Quito. The name refers to a near-vertical wall of rock that the train zigzags across at a white-knuckle gradient. (The route closed in 1997 due to damage, but reopened last June.) New luxury steam trains welcome passengers once again, offering stunning vistas of Cotopaxi, one of the highest active volcanoes in the world. Stay onboard for as many as four days and stop en route for excursions and hotels.
Best Time to Visit: June–September
PLAN YOUR TRIP: Visit Tren Ecuador
Mark Hind/Orient-Express Hotels Ltd.
Eastern and Oriental Express
WHERE: Thailand and Singapore
This three-day voyage is a highlight of any visit to the Far East. Travel in style through Thailand, Singapore, and Malaysia as food is freshly prepared using local ingredients. The journey takes passengers through the heart of Asia and crosses over the straits of Johor, with a stop in Kuala Laumpur, a tour of Penang's historical town, and a boat ride along Thailand's River Kwai.
Best Time to Visit: March–December
PLAN YOUR TRIP: Visit Eastern and Oriental Express
(c) Torsakarin | Dreamstime.com
Tokaido Shinkansen Bullet Train
WHERE: Japan
Admired the world-over as a technological feat of speed, safety, and efficiency, the bullet train traverses 343 miles in under two and a half hours, connecting two of Japan's largest metropolises: Tokyo and Osaka. For speed fanatics, the break-neck 167-mph speed ensures a thrilling ride. Be sure to watch as Mount Fuji and Kyoto whiz by. The train is slick, resembling a Concorde on wheels as it glides seamlessly through 17 stops, each timed to the second. Think this is fast? Japan aims to introduce a 581-mph version by 2025.
Best time to visit: March–June, October–November
PLAN YOUR TRIP: Visit Tokaido Shinkansen Bullet Train
Rovos Rail, Pride of Africa
WHERE: South Africa
The lovingly restored Pride of Africa train recaptures the romance and atmosphere of the bygone Edwardian era. Gourmet chefs and fine local South African wines have earned Rovos its reputation as a world-class rail journey. Enjoy panoramas across South Africa's stunning coastal Garden Route, Winelands of the Western Cape, and game reserves of the Zulu heartlands. The three-day journey crosses between Cape Town and Pretoria, with longer options including Victoria Falls in Zimbabwe, Swakopmund in Namibia, and even an epic Cape Town-to-Cairo voyage. If you feel like splurging, the Royal Suite features a private lounge, bathroom, and Victorian bathtub.
Best Time to Visit: October–May
PLAN YOUR TRIP: Visit Rovos
WHERE: Russia
Retracing some of the Silk Road's vital trading routes, this trip follows in the footsteps of Marco Polo and Alexander the Great. Journey from striking Moscow to coastal Vladivostok along Russia's Far East coast, crossing Siberia's steppes on the world's longest train route. Hop off to meet locals and even brave a dip in World Heritage site Baikal Lake. The seven-day voyage makes the most of daylight hours, but winter offers competitive rates and Siberian snowy beauty. Splurge on upmarket pampering aboard the luxurious alternative Golden Eagle train. Thrilling optional activities include Siberian treks and dogsledding.
Best Time to Visit: May–September, December
PLAN YOUR TRIP: Visit Golden Eagle Luxury Trains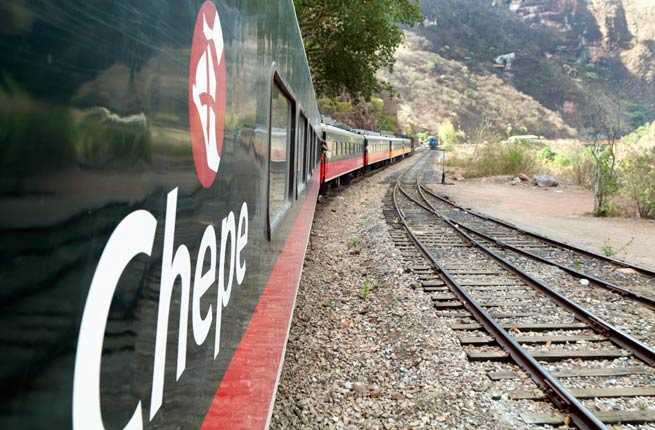 (c) Hapinessey | Dreamstime.com
WHERE: Mexico
The largest canyon in North America (four times the volume of Grand Canyon), Copper Canyon gets its name from the greenish-copper color of the canyon walls, formed 30 million years ago. The impressive journey spans from Los Mochis to Chihuahua, in a day trip connecting the Pacific Ocean to the central desert of Mexico along 407 miles of jagged terrain. The tracks cling to the mile-high forested mountainsides and the train passes by Mexico's second-largest waterfall. Sit back and enjoy the view from the open deck, or partake in activities, such as zip-lining, along the way.
Best Time to Visit: December–May
PLAN YOUR TRIP: Visit Copper Canyon Railway
Maharajas' Express by Simon Pielow
WHERE: India
Indian railways trump their counterparts the world over for their incredible color, bustle, and jostle. Ferrying 18 million passengers daily, these trains are the lifelines of India. In a country fabled for majestic Rajput opulence, the decadent Maharajas Express train route leads the luxurious pack with its weeklong odyssey from Mumbai to Delhi. A striking palace on wheels, decadence is found everywhere, from the regal staff to the sumptuous furnishings. Explore Ajanta caves, palaces, and the fabled Taj Mahal, in addition to desert sundowners, city food markets, and dazzling shopping.
Best Time to Visit: October–March
PLAN YOUR TRIP: Visit Maharajas Express