Here's a bucket list of a different sort. Historical places where men and women suffered in the most horrific of ways in the far distant past—often at the hand of another. Because of our innate curiosity, these places have become modern-day destinations in their own right. Moral compasses have no place in these prisons, torture chambers, and creepy-crawly bug pits, where the ugliest sides of human nature are exposed. Your challenge: Do you dare to go?—Barbara Noe Kennedy
Kamilokardona via Wikimedia Commons, [CC BY-SA 3.0]
Palacio de la Inquisición
WHERE: Cartagena, Colombia
The 18th-century, bright yellow palatial mansion in Cartagena's Parque de Bolivar looks pretty enough from the outside, with palm trees, billowing bougainvillea, and a stone entrance giving way to a lush courtyard. There's little to hint at the alleged heretics who once stood on this spot, giving one last glance to the outside world as they were led inside to meet their fates. For this Spanish Colonial building housed the torture palace of the Spanish Inquisition, today a grisly museum. The first room you come to is the House of Dungeons, a secret prison where heretics awaited judgment. If they refused to confess (as most would since they were mostly innocent), they were encouraged to do with torture. Walk through the holding cells and dimly lit rooms to see wax figures with distorted faces demonstrate the strappado (hanging the victim by their wrists held behind their backs) and the rack, just two of the appalling torture tools. Of 800 trials that took place here, not a single soul was found innocent. The guillotine still stands where they met their end.
PLAN YOUR TRIP: Visit Fodor's Cartagena Travel Guide
Geobia via Wikimedia Commons, [CC BY-SA 3.0]
Museo della Tortura
WHERE: San Gimignano, Italy
Charming San Gimignano dazzles visitors with its medieval towers and surrounding views of the Tuscan countryside. But inside Devil's Tower, along one of its boutique-lined lanes, lurks a shocking link to its past. The display of horrific torture apparatuses, devised by the vilest of minds, will shake your conscience to the core. Check out the Spanish Spider, for example, an iron pincer used to tear an adulterous wife's breasts from her body. Or the fork made with razor-sharpened spikes that tortured standing heretics by jabbing their chins every time they nodded off to sleep. The museum's message? That every man and woman hides the potential of "being a butcher," and that we must continue to fight against torture today.
PLAN YOUR TRIP: Visit Fodor's San Gimignano Travel Guide
Alan Murray-Rust, [CC BY-SA 2.0]
Alice Chaucer's Cadaver Tomb
WHERE: Oxfordshire, England
If the Black Death overcomes you, you'll be dead within a week. Symptoms include bloody lymph nodes, a bloody cough, vomiting, and delirium. In 1348 and 1349, the horrific plague swept across medieval England, killing more than 1.5 million people—and instilling panic in countless others. With a newfound fascination with death, the English elite buried their dead in tombs conveying the message "memento mori" ("remember you will die" ), a tradition that evolved into cadaver tombs and spread to other European countries as well. The deceased would be depicted in in a double-decker tomb: on the top, they'd be shown in their worldly glory, but on the bottom, a horror-show effigy of their decaying corpse would be included, sometimes assaulted with flesh-eating worms and other vermin. The magnificent alabaster tomb of Alice Chaucer, Geoffrey Chaucer's granddaughter, inside St. Mary's Parish Church in Ewelme, is an excellent example of a cadaver tomb. Her canopied aristocratic effigy, surrounded by angels, lies above a second corpse, this one depicting a desiccated, half-shrouded cadaver.
PLAN YOUR TRIP: Visit Fodor's England Travel Guide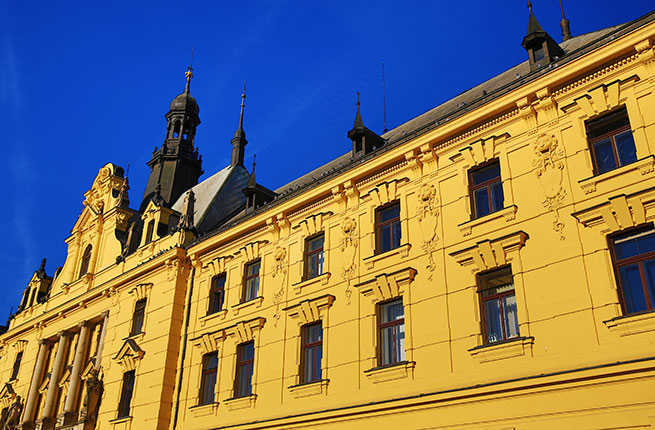 Paveldospiva | Dreamstime.com
Prague's Deadly Windows
On a tour of the fairy-tale Pražský Hrad (Prague Castle), you'll come to the harmless-looking, Renaissance-era Imperial Court Council Room, with very large windows. For poor William Slavata and Jaroslav Martinic in 1618, those windows served as a near death trap. The two Catholic regents played part in the closing of Protestant chapels—an act that violated the guarantees of religious freedom. They were tried, found guilty, and shoved, literally, out of one of the windows. Luckily they survived the defenestration, though peering down from the window you'll agree it's not a jump to take lightly. But that wasn't the first Prague defenestration. On July 30, 1419, angry Czech Hussites unceremoniously pushed seven Roman Catholic city councilors out the windows of Novoměstská Radnice (New Town Hall). They weren't so lucky. The sharp spears of the angry mob awaited them below, and anyone who survived was beaten to death. All seven perished.
PLAN YOUR TRIP: Visit Fodor's Prague Travel Guide
Piet De Kersgieter/Visit Flanders
Torture Chamber
WHERE: Ghent, Belgium
Suspects could not be declared guilty in medieval Ghent if they did not confess. And that was not always convenient for the Council of Flanders, responsible for keeping the peace. So within the walls of their grim castle, originally built by the Counts of Ghent, they relied on a torture chamber filled with excruciating methods to elicit confessions: thumb screws, stretching racks, blades to cut off hands and feet, and torture beds, to name a few. One mannequin depicts how a man was stretched on a rack and then water poured down his throat through a funnel. Guilty or not, you can bet most Gentenaars plead responsibility sooner rather than later—though only death awaited them at that point. Executions took place inside or in front of the gatehouse.
PLAN YOUR TRIP: Visit Fodor's Gent Travel Guide
Kbrouwer | Dreamstime.com
Les Baux-de-Provence
WHERE: Les-Baux-de-Provence, France
The powerful, warring Lords of Les Baux ruled their vast fiefdom from their cliff-top medieval citadel, perched atop a formidable craggy hilltop south of Avignon. Strolling this rocky spur overlooking the Provençal landscape, you're taken back to turbulent times when boiling oil, showers of boulders, and battering rams were just another day at the office. Get a real sense of the terror enemies faced at the other end of a catapult during daily demonstrations between April and September. And ponder the fate of kidnapped victims who didn't have the luck of being ransomed—those unfortunates were foisted off the castle walls to their deaths on the rocks far below. It's hard to believe that amid all this ruthlessness, the troubadours filled the courts with their lyrical love songs.
PLAN YOUR TRIP: Visit Fodor's Les-Baux-de-Provence Travel Guide
The Bug Pit
WHERE: Bukhara, Uzbekistan
Imagine being confined in a 12-foot-deep pit with piles of scorpions, lice, and rodents poured onto your head. For 24/7, months and years at a time. Without any break. Unlucky Britons Charles Stoddart and Arthur Conolly suffered just that, the biting, squirming horrors of the "Bug Pit" at Ark Fortress's Zindon Prison in modern-day Uzbekistan. Stoddart had traveled to Bukhara in 1838 on a diplomatic mission for Queen Victoria, making the blunder of riding into the castle on horseback rather than walking, then forgetting to present a gift to the brutal Emir of Bukhara. For that, he was thrown into the pit. Conolly was sent to rescue him; he, too, forgot a gift—and was tossed into the pit to join Stoddart. In 1842, the men were put out of their misery, when the Emir paraded them in front of the fortress, made them dig their own graves, then beheaded them to the sounds of drums and reeds. Today you can visit the prison and Bug Pit, with a torture chamber, several dungeons, and mannequins demonstrating the shocking conditions.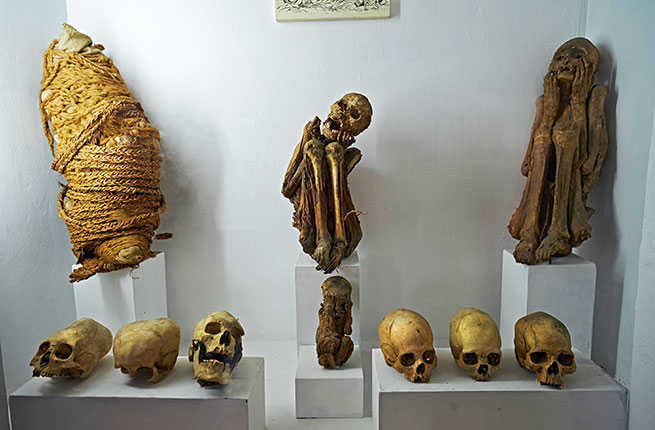 Izel Photography / Alamy Stock Photo
Inca Child Sacrifice Mummies
WHERE: Salta, Argentina
In 1490, three Incan children were placed near the snow-capped, 22,110-foot summit of Volcán Llullaillaco in Argentina, part of an ancient Inca offering to the deities. The children were selected at least a year before their final sacrifice and treated to special foods like maize, llama meat, and coca. During their last weeks, the children drank alcohol as well, no doubt to ease them into a state of compliance. A blunted instrument was probably used to knock them out, before leaving them to die in the frigid cold. The naturally mummified corpses were discovered in 1999—perfectly preserved down to their plaited hair, vibrant clothes, and even the coca flakes on the older girl's upper lip. They are now on display—one at a time, rotated every six months—at the Museo de Árqueología de Alta Montaña in Salta. The decision to show them was controversial, and it's startling to come face-to-face with the fear-riveted faces of these poor lost souls.
PLAN YOUR TRIP: Visit Fodor's Travel Guide to Salta, Argentina
Gmv | Dreamstime.com
Selinunte
WHERE: Sicily, Italy
The Greek citizens of Selinunte enjoyed a bountiful life in one of the world's richest and most powerful cities. Then, on a fateful day in the 5th century B.C., North Africans invaded in a surprise attack. More than 16,000 inhabitants and soldiers were slaughtered, with thousands more taken as slaves. Archaeologists today are uncovering Selinunte's final moments—down to half-eaten meals and unfired pots and tiles, abandoned by townsfolk as catastrophe engulfed them. Wander among the jumbled temple ruins and imagine the place once vibrant with market vendors and shoppers and businessmen and priests … all extinguished in a matter of moments.
PLAN YOUR TRIP: Visit Fodor's Travel Guide to Sicily
Gofer | Dreamstime.com
Tower of London
WHERE: London, England
If you're quiet, you may hear the ghostly wails of some of the tortured souls who suffered in this cold, stone venue—be they religious or political prisoners, traitors, rogues, or even royalty. Indeed, over the course of a thousand years, the Tower of London—prison, fortress, execution venue, palace—has seen it all. The Duke of Exeter introduced the torture rack, where martyr Edmund Campion was stretched three times. In the 16th century alone, three English queens were executed on the Tower Green. Guy Fawkes, probably the most famous prisoner, was suspended from the manacles in 1605 after his plot to blow up the Parliament failed. On a tour you'll hear horrific tales, read graffiti left by prisoners more than 500 years ago, and see replicas of some of the most infamous torture instruments, including two versions of the scavenger's daughter—one which compressed the victim like a nutcracker, the other holding the victim at the neck and ankles and twisting the body in two different directions. Try not to shiver.
PLAN YOUR TRIP: Visit Fodor's Travel Guide to London