Sasha Buzko/Shutterstock
Sure, Washington D.C. is within driving distance of some of the Atlantic Ocean's best beaches, but other prized stretches of sand are more than a short car ride away. Luckily, many tropical getaways are easily accessible by plane and offer refuge from the capital's winter weather. Whether you hop on a flight to Jacksonville, or travel a bit farther to Barbados, you can get to some of the world's best beaches without putting up with any long layovers. Here are our picks for best non-stops from D.C. to the beach.
Ken Schulze/Shutterstock
Jacksonville, FL
From: DCA, Dulles
Flight Duration: 1 hour and 33 minutes
Why Go: The coastal town often goes unnoticed by travelers—but passing up the city would be a mistake. Jacksonville offers a friendly, laid-back atmosphere, charming historic neighborhoods, and activities for all ages and interests. Visit Neptune Beach for a variety of watersports and easy access to the city's best shopping and restaurants.  Animal lovers will enjoy Jacksonville Zoo and Gardens, which features an award-winning wild cat exhibit. Take a break from the beach at Jacksonville Landing, a riverfront market with full-service restaurants and specialty shops.
Insider Tip: Browse 20th-century masterpieces at the Museum of Contemporary Art Jacksonville. Families receive free admission on Sundays, and the museum also offers a free "Art Walk" once a month.
Where to Stay: The winter season is busy in Jacksonville, so book a room well in advance. Ponte Vedra Inn and Club features ocean views, attentive service, and a full-service spa that attracts a celebrity clientele.
PLAN YOUR TRIP: Visit Fodor's Jacksonville Guide
Alan Falcony/Shutterstock
Tampa, FL
From: DCA, Dulles
Flight Duration: 1 hour and 58 minutes
Why Go: The Tampa region is best known for its pristine beaches, but also offers a number of art and cultural attractions. Stop by the Dalí Museum for free, guided tours of the famous painter's artwork. Pass-A-Grille Beach exudes Old Florida charm and features an open-air market with handicrafts from local artisans. For a taste of authentic Cuban culture visit Ybor City, Tampa's colorful Latin Quarter boasts trendy boutiques, hip art galleries, and a variety of restaurants and nightclubs.
Insider Tip: Go on a safari in Tampa. The city's Giraffe Ranch is home to many giraffes as well as zebras, hippos, and ostriches.
Where to Stay: Tampa Bay hotels reflect the region's rich history. From Spanish-style villas to early 20th century resorts, hotel guests will feel as if they've stepped back in time. Cottages at the Turtle Beach Resort date back to the 1940s and offer peaceful accommodations with bayside views.
PLAN YOUR TRIP: Visit Fodor's Tampa Bay Area Guide
Alexander Demyanenko/Shutterstock
Miami, FL
From: DCA, Dulles
Flight Duration: 2 hours and 11 minutes
Why Go: Miami's trendy beaches, hip design districts, and vibrant nightlife scene draws an international crowd. The city is best known for South Beach, a 10-block stretch of sand packed with sunbathers and fashionistas. But visitors can also find other attractions to fit their interests. Fairchild Tropical Botanic Garden offers a tram tour of exotic plants and features a 2-acre rainforest exhibit with a waterfall and stream. Don't leave the city without experiencing its nightlife firsthand. LIV Nightclub is the perfect place to dance the night away.
Insider Tip: To get past the velvet ropes at Miami's most exclusive nightclubs, use the hotel concierge. The concierge can call in your name ahead of time so you'll be on the guest list when you arrive.
Where to Stay: The city's downtown area features more contemporary properties, although most visitors opt to stay near the beach. W South Beach features ocean-view balconies in each room, designer furnishings, and a lively pool scene.
PLAN YOUR TRIP: Visit Fodor's Miami Guide
Daniel Korzeniewski/Shutterstock
Nassau, Bahamas
From: DCA
Flight Duration: 2 hours and 24 minutes
Why Go: Providence and Paradise Island offer a bit of heaven on earth. The islands' high-end shopping, never-ending nightlife, and beautiful beaches are perfect for travelers looking to relax and unwind. At Cabbage Beach, visitors can jet ski or parasail over sparkling blue waters. Housed in a 19th-century mansion, Nassau's National Art Gallery of the Bahamas features the works of renowned Bahamian artists. Club Waterloo, Nassau's largest self-proclaimed indoor-outdoor nightclub, offers nonstop dancing during the week and live bands on the weekends.
Insider Tip: Dog-lovers will enjoy the International Dog Show & Obedience Trials, held mid-March in Nassau.
Where to Stay: The Bahamas are home to megaresorts, including the world-renowned Atlantis. Guests can explore the resort's caves, lagoons, and waterfalls, and choose from a variety of water sports.
PLAN YOUR TRIP: Visit Fodor's Bahamas Guide
michelepautasso/Shutterstock
Cancun, Mexico
From: BWI
Flight Duration: 3 hours and 12 minutes
Why Go: Cancún's popular beaches, world-class spas, and historic ruins make it an ideal destination for travelers. The city is home to a number of large resorts, which stretch along its pristine coastline. Many visitors find lounging on powdery white sand beaches entertainment in and of itself—but travelers can also go off the beaten path and explore the city's cultural attractions. Explore artificial reefs and colorful marine life at Cancún Underwater Museum. For up-close looks at Mayan ruins, stop by Ruinas El Rey. The archaeological site features remains dating back to the 2nd century BC and pyramids with stucco paintings.
Insider Tip: High season in Cancún runs between November and April. If you plan to visit during the winter months, book a room at least three months in advance.
Where to Stay: Zona Hotelera—the city's hotel corridor—offers upscale amenities, while Cancún's city center offers more modest accommodations. Le Blanc Spa Resort on Zona Hotelera offers a renowned spa, in-room Jacuzzis, and refined, minimalist décor.
PLAN YOUR TRIP: Visit Fodor's Cancún Guide
col/Shutterstock
Montego Bay, Jamaica
From: BWI
Flight Duration: 3 hours and 21 minutes
Why Go: In Jamaica, vacationing is a way of life. The island was the birthplace of Caribbean all-inclusive resorts and makes the most of its stunning natural beauty, delicious cuisine, and warm, friendly atmosphere. Visitors can enjoy seven miles of powdery white sand at Negril Beach. Explore mountain waterfalls at Dunn's River Falls, where experienced guides lead climbing expeditions. At Rose Hall, visitors can take a tour of a haunted property and have a drink in the house's cellar pub.
Insider Tip: Stop by Montego Bay the last Thursday, Friday, and Saturday of January for Jamaica Jazz & Blues festival. The event attracts world-renowned musicians and features headliners like Celine Dion and Kenny Rogers.
Where to Stay: Most resorts in Jamaica are all-inclusive, although the island also offers private villas in exclusive bays. At Round Hill Hotel and Villas, rooms come equipped with personal maids and cooks and guests can enjoy extensive spa services.
PLAN YOUR TRIP: Visit Fodor's Jamaica Guide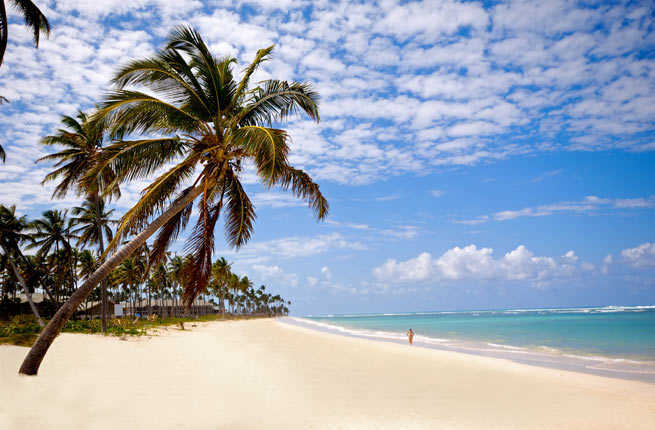 Lars Christensen/Shutterstock
Punta Cana, Dominican Republic
From: BWI
Flight Duration: 3 hours and 31 minutes
Why Go: Travelers flock to Punta Cana for its sparkling, crystal-clear waters and sugary-white sand beaches. For untouched stretches of sand with shady coconut palms, visit Playa Punta Cana. The beach's calm waters are perfect for swimming and snorkeling. Explore the island on horseback at Rancho Punta Cana: where you can choose from a two-hour jungle trail ride or a full-moon excursion. Swim with the dolphins at Dolphin Island Park in Bávaro. The park is a short boat ride away from the beach and features instruction, a dolphin show, and a 25-minute swim in protected waters.
Insider Tip: From January to March, visitors can watch wintering humpback whales return to Punta Cana's warm waters for their mating and birthing season.
Where to Stay: Punta Cana is one of the best places in the Caribbean to find all-inclusive resorts. Club Med Punta Cana leaves no stone unturned. The all-inclusive property features family activities, a deluxe spa, and a colorful beach bar.
PLAN YOUR TRIP: Visit Fodor's Punta Cana Guide
Ian Smith/Dreamstime.com
San Juan, Puerto Rico
From: Dulles
Flight Duration: 3 hours and 36 minutes
Why Go: San Juan's rich history is present around every corner. Visitors can explore cobblestone streets, natural harbors, and settlements dating back to the 16th century. Guests can wander through a 16th century fortress at Castillo San Felipe del Morro, or "El Morro." The military site features displays of ancient armaments and dark secret passageways. Families will love Balneario de Carolina, a beach with calm surf and plenty of room for picnicking. Museo de Arte de Puerto Rico, one of the largest museums in the Caribbean, boasts colonial-era art and lush tropical gardens.
Insider Tip: Even though Old San Juan receives the most attention, consider visiting Condado. The lively pedestrian neighborhood is located just outside the city and offers a variety of dining and shopping venues.
Where to Stay: Accommodations in San Juan range from large, beachfront resorts to smaller, colonial inns. El San Juan Hotel & Casino features poolside cabanas, a two-level nightclub and large guestrooms with modern furnishings.
PLAN YOUR TRIP: Visit Fodor's San Juan Guide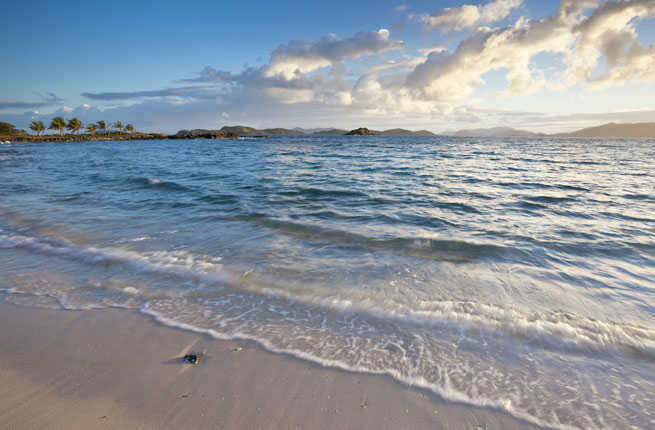 Sasha Buzko/Shutterstock
St. Thomas, U.S. Virgin Islands
From: Dulles
Flight Duration: 3 hours and 46 minutes
Why Go: Most travelers who visit the Virgin Islands touchdown in St. Thomas—and stay for its duty-free shopping, ideal fishing waters, and beautiful beaches.  Suntan, lounge, and swim on the heart-shaped stretch of sand at Magens Bay. The family-friendly beach offers sunfish and paddleboat rentals and a variety of bars and snack shacks. Parasail above St. Thomas's clear waters on a boat trip. Shop at upscale boutiques on Charlotte Amalie's Main Street, or browse crafts and jewelry from local artisans.
Insider Tip: The U.S. Virgins Islands are a shopper's paradise. There's no sales tax and each family member receives a $1,600 duty-free allowance.
Where to Stay: Most hotels are located in Charlotte Amalie, although visitors can find more secluded villas on the island's north side. The Ritz-Carlton, St. Thomas is a traveler's dream. The resort offers luxurious rooms, ocean views, and family-friendly beachfront amenities.
PLAN YOUR TRIP: Visit Fodor's St. Thomas Guide
Matthew Bechelli/Shutterstock
Barbados
From: Dulles
Flight Duration: 4 hours and 38 minutes
Why Go: For a taste of British culture far away from the Isles, visit Barbados. Afternoon tea and dressing for dinner are standard, and guests can enjoy sophisticated cities and lively coastal beaches. Bottom Bay Beach, a secluded coastal enclave, features picturesque coral cliffs and unmatched ocean views. Browse more than 100 species of tropical flora at Flower Forest, a 53- acre property with walking trails and lookout points. Nature lovers will enjoy Andromeda Botanic Gardens, which features more than 600 rare plant specimens and ocean views.
Insider Tip: If you're visiting the island in February, stop by the Holetown Festival. The weeklong event commemorates the date when the first European settlers arrived in Barbados and includes colorful parades, music, and dancing.
Where to Stay: The island offers a range of accommodations, from large, beachfront resorts on the west coast to smaller properties in the south. For peaceful surroundings and elegant suites, book a room at Cobblers Cove. The English Country-style resort features penthouse suites with private sundecks and a highly-rated alfresco restaurant.
PLAN YOUR TRIP: Visit Fodor's Barbados Guide