THORSTEN via WIkimedia Commons, [CC BY-SA 4.0]
The struggle to protect history's most significant ruins against the march of time and modern development is an ongoing battle, and despite the awareness and funding the UNESCO World Heritage Site program provides, many sites struggle to maintain the outlined preservation standards. With its list of endangered sites, UNESCO keeps closer tabs on certain sites deemed at risk from irreparable damage, jeopardizing a piece of human or natural history. Climate change, industrial activity, poaching, and urban expansion are a few of the problems that plague the preservation of the world's most important monuments and natural areas. We've highlighted 10 sites UNESCO has deemed endangered that you'll want to see sooner rather than later.—Abbey Chase
Institute for the Study of the Ancient World via Wikimedia Commons, [CC BY 2.0]
Abu Mena
WHERE: Egypt
At first glance, Abu Mena disappears almost completely into the surrounding area, its chalky sandstone-colored façade blending seamlessly into the expansive desert beyond. The ruins, about 30 miles outside of Alexandria, are the site where Saint Menas, a third-century martyr, is buried. As a result, Christians at the time believed the area had healing powers and a collection of churches and other secular and religious building were built on the spot, founding one of the earliest Christian cities.
Why It's Threatened: Agricultural activity in the vicinity and rising water tables
PLAN YOUR TRIP: Visit Fodor's Egypt Travel Guide
Solovki | Dreamstime.com
Church of the Nativity and Pilgrimage Route
WHERE: Palestine
One of the most sacred sites for Christians, the Church of the Nativity in Bethlehem sits on the exact spot where Jesus is said to have been born. The church there today dates to the mid-6th century AD and is the oldest Christian church in daily use. Because of its significance in Christianity, the area surrounding became an important pilgrimage trail and is still in use today for that purpose.
Why It's Threatened: Water damage
PLAN YOUR TRIP: Visit Fodor's Israel Travel Guide
ETF89 via Wikimedia Commons, [CC BY-SA 4.0]
Comoé National Park
WHERE: Cote d'Ivoire
Unique and rare plants species are the main attraction at Comoé National Park, a nearly 4,500-square-mile reserve in West Africa with everything from arid savannah land to leafy rainforests. Cut through by the coursing Comoé river, the park is home to large groups of hippos and African crocodiles, as well as more than 500 species of migratory and resident birds and several species of primates.
Why It's Threatened: Poaching, overgrazing from nearby livestock, and political instability
Read More: 15 Breathtaking World Heritage Sites
Phenss via Wikimedia Commons, [public domain]
East Rennell
WHERE: Solomon Islands
East Rennell is the largest raised coral atoll in the world, making it a highly unique biosphere for flora and fauna alike. Located on the southernmost island in the Solomon Islands, East Rennell has a huge internal lake, Lake Tegano, speckled with limestone islands atop the shimmering blue-green water. As of now, the area's ecosystem is still almost completely contained, making it a highly unique area to observe an untainted micro-biosphere.
Why It's Threatened: Encroachment from logging activity and the introduction of invasive species
Read More: 15 Breathtaking World Heritage Sites
Tombs of Buganda Kings
WHERE: Uganda
Of the remaining subnational kingdoms in Uganda, Buganda is the largest and constitutes a large percentage of the country's ethnic makeup, with a history in the region dating back to the 1500s. Outside Kampala lie the tombs of four of the kingdom's most noted kings from the last 200 years in domed thatched shrines. Several sacred Bugandan objects and relics are stored here and it is still in use today as a holy site for traditional practices.
Why It's Threatened: Damage sustained after a 2010 fire
PLAN YOUR TRIP: Visit Fodor's Uganda Travel Guide
Yakoo1986 via Wikimedia Commons, [CC BY-SA 4.0]
Mount Nimba Strict Nature Reserve
WHERE: Guinea and Cote d'Ivoire
Viviparous toads, western chimpanzees, certain species of otters, horseshoe bats, West Africa lions, and pygmy hippos are a few of the endemic and endangered species that call Mount Nimba Strict Nature Reserve home, a compact 68 square miles of forest that straddle the border between the two African nations and form the ecosystem around the base of Mount Nimba. The variation in elevation within the park means that clouds of heavy fog often hover picturesquely over the lowlands, concealing the diversity of wildlife underneath.
Why It's Threatened: Encroachment from mining and agricultural activity, as well as threats from poachers
Read More: 15 UNESCO Sites to See While You Can
Taradeephotodesign | Dreamstime.com
Nan Madol
WHERE: Micronesia
Like so many great ancient ruins around the world, Nan Madol's history is far from clear. The complex of nearly 100 different structures sits atop a coral reef off the coast of the island of Pohnpei, dating back perhaps as far as the 13th century. The enormous basalt and coral structures, which form artificial islands in an oceanic lagoon, housed members of the Saudeleur Dynasty, a notable ruling family in the Pacific region. How Nan Madol was built without the aid of modern technology and for exactly what purpose remains unknown.
Why It's Threatened: Overgrowth of mangroves and erosion
Read More: 15 UNESCO Sites to See While You Can
Shargaljut | Dreamstime.com
City of Potosí
WHERE: Bolivia
This city perched high in the Andes is home to the world's largest silver deposit, and its centuries' old silver mines and then-cutting edge hydraulic systems have been preserved until today. After the arrival of the Spanish in the 16th century, Potosí became enormously wealthy through its silver exports to Spain, causing the population boom. As a result of the influx of wealth, Potosí became known for its developments in architecture and decorative arts.
Why It's Threatened: Continued mining activity, structural instability, and ineffective conservation efforts
PLAN YOUR TRIP: Visit Fodor's Bolivia Travel Guide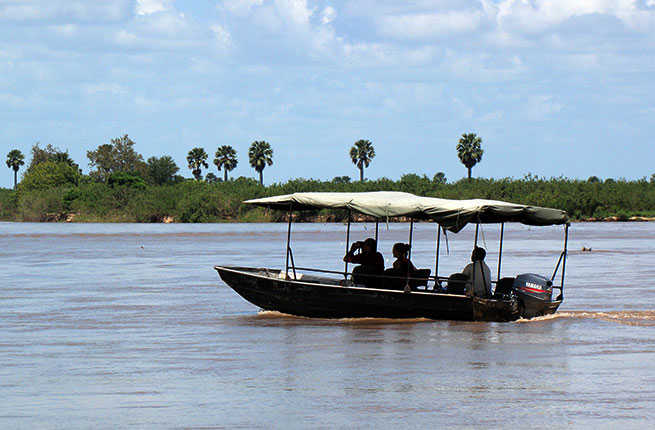 Digr via Wikimedia Commons, [CC BY-SA 3.0]
Selous Game Reserve
WHERE: Tanzania
South and east Africa are full of nature reserves with abundant wildlife, but few remain as untouched as Selous. Within its bounds are 19,000 square miles of land completely uninhabited by humans, where elephants, black rhinos, hippos, cheetah, African wild dogs, Cape buffalo, giraffes, crocodiles, and several species of bird all have the run of the place. The diversity of flora in Selous Game Reserve is also somewhat unusual. Its many waterways make Selous ideal for game drives via boat in addition to traditional wildlife viewing.
Why It's Threatened: Poaching
PLAN YOUR TRIP: Visit Fodor's Tanzania Travel Guide
THORSTEN via WIkimedia Commons, [CC BY-SA 4.0]
Historic Centre of Shakhrisyabz
WHERE: Uzbekistan
The history of Shakhrisyabz dates back more than 2,000 years, at various points falling under control of the Achaemenid Empire, Alexander the Great, the Sogdian Empire, the Russians, and most notably, the Timurid dynasty, a Muslim empire with genealogical ties to Genghis Khan who ruled in the area for nearly 150 years. Several monuments from the city's checkered past have survived, including a 14th-century palace and a covered bazaar, royal mausoleum, mosques, and public baths from the 15th century. The city's historic location along the Silk Road and its multifaceted history have lent it a vibrant and diverse architectural character.
Why It's Threatened: Overdevelopment in the surrounding neighborhoods
Read More: 15 Breathtaking World Heritage Sites