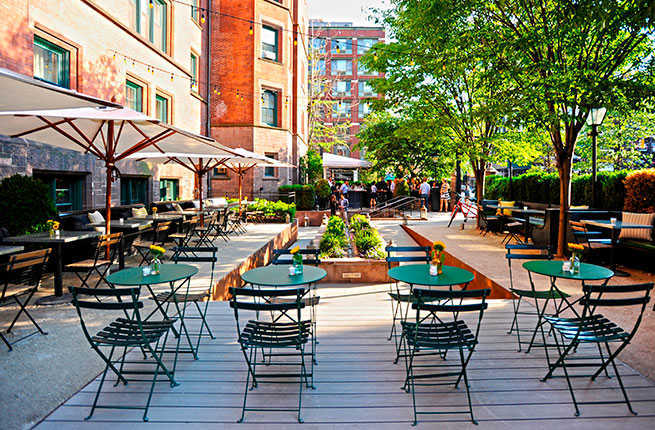 Courtesy of Alta Linea
In New York, the return of warm, sunny days means a new crop of restaurants and a premium on outdoor seating. This season's stylish highlights feature a range of cuisines from tapas to southern Italian and splashy debuts from ambitious chefs and seasoned restaurateurs. From hip Brooklyn neighborhoods to the island of Manhattan, stay cool with our favorite newcomers on the New York dining scene.—Kate Donnelly
Eric Medsker
Barano
Barano, the small Italian village where chef Albert Di Meglio's grandmother was born, has landed in south Williamsburg. Working with a wood-fired oven, grill, and rotisserie, Barano has three variations of house-pulled mozzarella and delights like the vongole pizza topped with clams, mozzarella, roasted garlic, and herb breadcrumbs. Di Meglio's grandmother's recipe for meatballs uses dry-aged beef and sheep's milk ricotta —which balance perfectly with housemade pastas like linguine with Manila clams, garlic, lemon, and breadcrumbs.Trust us, you won't leave hungry. And, sorry, you can't leave without an order of tiramisu.
PLAN YOUR TRIP: Visit Fodor's Brooklyn Guide
Brian Bloom
Gunter Seeger
For fine dining near the Meatpacking District and the West Village, chef Guenter Seeger has brought a sophisticated, small dining room with 42 seats, to mimic that of eating inside a brownstone. An elegant, minimalist tasting menu (starting at $185) changes routinely and has been known to include delights like poached marrowbone with spring onion and chive flower – perhaps best enjoyed alongside the wine tasting experience.
PLAN YOUR TRIP: Visit Fodor's New York City Guide
Melissa Hom
Izi
Before a Broadway show, pop into the cozy (only 26 seats) wood-paneled Izi, featuring izakaya-style small plates like Korean fried chicken, ahi poke, and sushi rolls. Booze enthusiasts will appreciate the vast, sophisticated sake and whiskey list that offers tasting flights. The wow moment is a massive chocolate-covered fortune cookie with marshmallow, peanuts, and mousse. Just upstairs, Blue Fin hosts a delicious "Summer at the Sea" prix-fixe menu drawing inspiration from worldly destinations like Postiano, Nantucket, Barcelona, and Tokyo.
PLAN YOUR TRIP: Visit Fodor's New York City Guide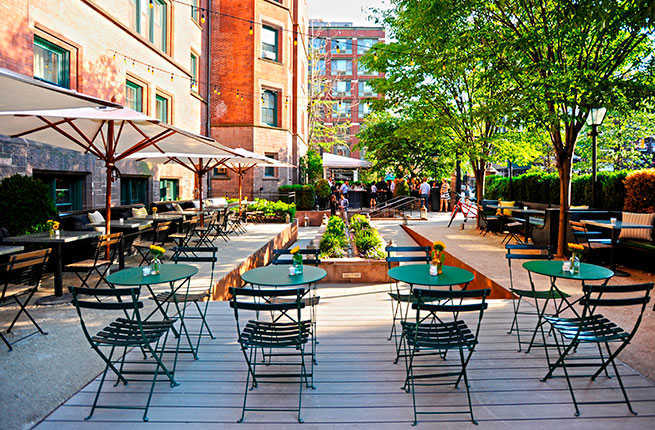 Courtesy of Alta Linea
Alta Linea
Once again, Chelsea's High Line Hotel hosts the popular outdoor patio Alta Linea. Their hailed summer cocktail program has returned, with the beloved frozen Negronis (compliments of beverage whiz Joe Campanale) and a Lemon Sgroppino. The al fresco menu of rustic Italian food includes dishes like arancini with spring peas and white Bolognese, burrata with sweet peas and smoked almonds, and a hearty cheeseburger dressed with fontina and San Marzano jam.
PLAN YOUR TRIP: Visit Fodor's New York City Guide
Daniel Krieger
Amada
James Beard Award–winning chef José Garces opened Amada inside Battery Park's Brookfield Place. Like its Philadelphia outpost, Amada has modern tapas plates including a crowd-pleasing empanada with manchego and spinach and new entrées like lamb tartare with romesco verde and Idiazabel cheese. For big appetites, lobster paella and a roasted suckling pig (order in advance) fit the bill. Next door, the small coffee shop Amadita serves grab-and-go pastries and coffee, a collaboration between Garces and his father, with beans sourced from Colombia, Guatemala, Panama, and Costa Rica.
PLAN YOUR TRIP: Visit Fodor's New York City Guide
Sal D'Alia
Tapestry
Global flavors are all the rage at this cozy West Village spot, where Michelin-starred Indian chef Suvir Saran whips up a fusion of Mexican, North African, French, and Italian food, from ingredients sourced mostly from local farms. Start with the Haleem chili nachos with beef, oats, chilies, cilantro, pickled onion, and ginger. Dishes like rabbit terrine and the fried chicken (with peanut slaw, biscuits, and aloo bharta) wow diners at the chic white-brick and polished wood space.
PLAN YOUR TRIP: Visit Fodor's New York City Guide
Katie Burton
Pig Beach
In Gowanus, last season's hip pop-up now boasts a year-round address with a new menu from an all-star team (Ed's Lobster Bar, Balthazar, and Del Posto). The eclectic barbecue-focused menu, drawing on the team's competitive BBQ trips around the country, features championship baby back ribs, pork shoulder, and their triple patty burger made from a brisket and short rib blend on a potato bun with all the fixings. Under the string lights, sip some draft wine and try your hand at cornhole or ping-pong.
PLAN YOUR TRIP: Visit Fodor's Brooklyn Guide
Adrienne Grunwald
Rider
Inside Williamsburg's new National Sawdust space, chef and owner Patrick Connolly's bi-level contemporary bistro seats 65 in an industrial-style space with salvaged timber benches. Shareable dishes include chicken wings dressed with a sweet-spicy sauce and an open-face French dip with roasted marrow bone. To drink, don't miss the "Bernie Sanders Rookie Card"—a cocktail with white rum, apple brandy, vanilla, grenadine, lemon, and sparkling wine.
PLAN YOUR TRIP: Visit Fodor's Brooklyn Guide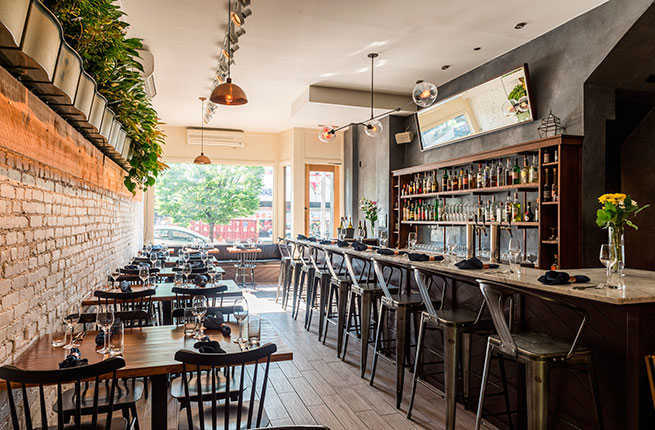 Evan Sung
Olmstead
In Prospect Heights, this exciting opening from owner and chef Greg Baxtrom and farmer Ian Rothman (whose combined resume includes Per Se, Alena, Atera and Blue Hill at Stone Barns) is an airy 50-seat dining room with high ceilings, repurposed barn wood, and a living green wall. Appetizers like radish and lemon balm segue into mains like grilled dogfish with rhubarb and Swiss chard and a grass-fed steak with potato "Dauphinoise" with tarragon and lemon. Outside, there's a lush backyard garden (producing a lineup like wild onions and fiddlehead ferns), perfect for al fresco dining and a lavender cocktail with herbes de Provence–infused bourbon.
PLAN YOUR TRIP: Visit Fodor's Brooklyn Guide
Evan Sung
Agern
From the folks behind the legendary Copenhagen restaurant Noma comes Agern (meaning "acorn" in Danish). Inside the stupendous Grand Central Station, chef Gunnar Gislason's menu picks up on native foraged plants like nettles and highly touted Scandinavian ingredients like Harvgus (a Danish cheese) and buckhorn. Order from two tasting menu options or dine à la carte. The 100-seat space is a calming fusion of light woods, Danish furnishings, glass, and brass pendants.
PLAN YOUR TRIP: Visit Fodor's New York City Guide
Bell Book & Candle
Bell Book & Candle
This farm-to-table spot in the West Village grows its own produce from its aeroponic rooftop garden (six stories above the restaurant). Inside, a wooden farmhouse chef's table hidden in the back seats 12 comfortably. Sunday Soul Brunch showcases a gospel band paired with a Southern-inspired brunch menu of fried chicken with mashed potatoes, braised kale and chicken gravy, and a cast-iron mac and cheese.
PLAN YOUR TRIP: Visit Fodor's New York City Guide
Katie Burton
Sauvage
Sauvage, meaning savage or wild, is from the team who brought about the James Beard Award–winning Maison Premiere. Chef Lisa Giffin's dinner highlights include mountain pike with vegetables and a sour beer sabayon, and sunchokes with green garlic and chickweed, while the bar menu focuses on small-batch spirits. Design touches like a French walnut bar, hand-blown chandeliers, and vintage embossed chairs are surrounded by planted herbs and leafy botanicals.
PLAN YOUR TRIP: Visit Fodor's Brooklyn Guide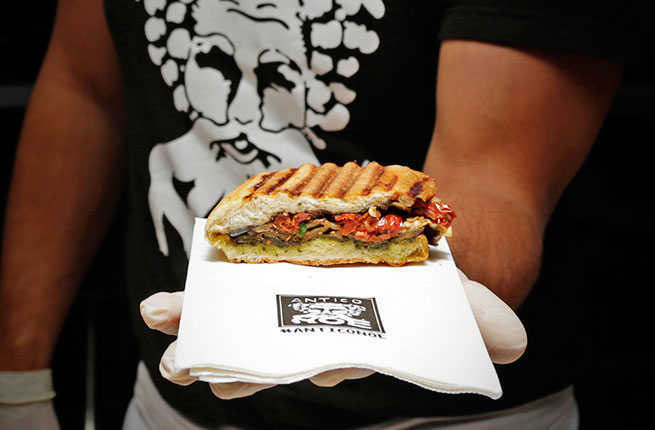 Courtesy of Antico Noe
Antico Noe
Long beloved for their paninis in Florence, Italy, this famed sandwich shop has opened an outpost in Midtown East. The menu features some of the original location's best sellers like roasted turkey with onions, brie cheese, and spicy sauce made on delicious sub-style breads (white and seven grain) and then pressed to crisp perfection.
PLAN YOUR TRIP: Visit Fodor's New York City Guide
Courtesy of Josephina
Josephina
This sweet taco pop-up with a hip, rustic backyard in Gowanus, Brooklyn, whips up handmade tortillas filled with carne asada, chorizo and potatoes, or vegetables and house-made cotija cheese. The sweet masa cake with pistachio ice cream rounds out the experience along with a sip of "La Soldadera," a cocktail made with mezcal, serrano, guava, and lime.
PLAN YOUR TRIP: Visit Fodor's Brooklyn Guide
Jason Burke
Brooklyn Barge
In Greenpoint, the cool crowd gathers for a trifecta of views: the waterfront, the Williamsburg Bridge, and the Manhattan skyline. The spot functions with dual purpose—aboard thefloating restaurant, Chef Bradford Thompson doles out grilled fish tacos with pickled onions, cabbage, and lime on a Hot Bread tortilla, and on land, there's more casual picnic tables. The aptly titled Tugboat fries feature pulled pork, cheese, and jalapeños. Dip into the dollar beer bin or try the Cornell cocktail made with spiced rum, ginger beer, and lime.
PLAN YOUR TRIP: Visit Fodor's Brooklyn Guide