Courtesy of Vila Joya Hotel and Restaurant
Everyone knows that European capitals like Paris, London, and Rome are brimming with world-class gastronomy, but some of the world's best restaurants lie outside the city limits. Located in mountain hamlets, industrial suburbs, historic villages, and underappreciated provincial capitals, these 10 spots (all found on The World's 50 Best Restaurants list for 2014) offer destination-worthy dining experiences. From an experimental New Nordic lodge in the wilds of central Sweden to a castle retreat in the Swiss Alps, these restaurants prove that sometimes you have to leave the cities behind to find the most daring, delicious dishes in Europe.
by Nicholas DeRenzo
WHERE: Girona, Spain
Ranked the world's best restaurant in 2013, El Celler de Can Roca boasts buzzy molecular gastronomy techniques, artful plating, and a dazzlingly epic tasting menu. But at its heart, it's something much simpler: one family's ode to their home, Spain's Catalunya region. Each of the Roca brothers has a dedicated role: Joan is the chef, Josep is the sommelier, and Jordi is the pastry chef. While the presentations are avant-garde—dessert-inspired perfumes, bonsai trees studded with caramelized olives—the flavors of the Iberian Peninsula always shine through.
While You're There: Forty minutes up the coast from Barcelona by train, historic Girona is renowned for its Arab baths, Roman walls, one of Europe's best preserved medieval Jewish ghettoes, and a cathedral with the widest Gothic nave in the world.
PLAN YOUR TRIP: Visit Fodor's Girona Guide
WHERE: Modena, Italy
In Italian cooking, tradition rules. But at Modena's Osteria Francescana, chef Massimo Bottura pushes the envelope while still keeping historical flavors and inspirations intact. His tasting menu is divided into three sections: Tradition in Evolution, filled with classic Emilia-Romagna dishes like tagliatelle with ragu; Classics, Bottura's modernist dishes that have become famous over the years, such as "Five Ages of Parmigiano Reggiano in different temperatures and textures"; and Sensations, the chef's newest seasonal experiments.
While You're There: Ninety miles north of Florence, Modena is filled with family-run balsamic vinegar makers and the Museo Casa Enzo Ferrari, which opened in 2012 to honor the city's famed carmaker.
PLAN YOUR TRIP: Visit Fodor's Modena Guide
José Luis López de Zubiria
WHERE: Menton, France
At Mirazur, Argentine chef Mauro Colagreco aims to serve his ingredients with as little intrusion as possible. From his enviable perch on the Côte d'Azur, near the French-Italian border, it's hard to blame him for his culinary minimalism. The freshest Mediterranean seafood is mere minutes away, and his on-site garden yields more than 100 varieties of fruits, herbs, and vegetables. His approach is clearly working: Colagreco was the first non-French chef to be named newcomer of the year by the Gault Millau guide.
While You're There: Twenty miles east of Nice, the so-called "Pearl of France" is an underexplored Riviera gem, with an always-sunny subtropical climate, famous gardens, and the Musée Jean Cocteau.
PLAN YOUR TRIP: Visit Fodor's Menton Guide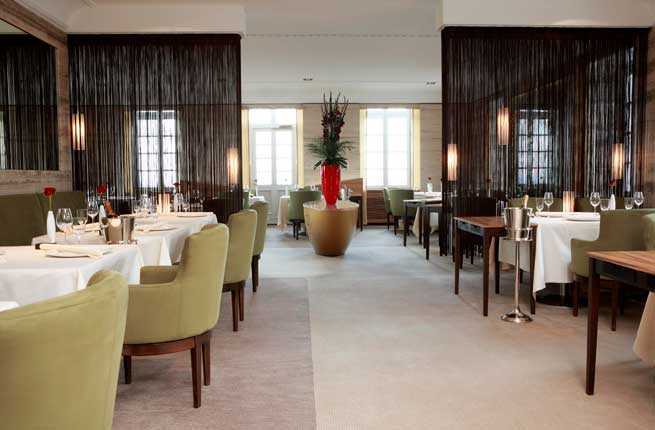 Courtesy of The Leading Hotels of the World
WHERE: Bergisch Gladbach, Germany
Set in a cottage on the grounds of Schloss Bensberg, a 1711 palace-hotel, Vendôme is widely considered the nation's best restaurant. Joachim Wissler may be a pioneer of neue deutsche Küche, or new German cuisine, but the restaurant's name reveals Wissler's outward-facing approach, with French, Italian, and sometimes Asian inspirations peppering the menu. You'll find, for example, classic venison with brown ale, sour sweet cherry, pistachios, and chanterelles—which feels straight out of the Black Forest—next to a fusion dish, such as foie gras with apples, miso, and lychee.
While You're There: Bergisch Gladbach is home to significant architectural gems like a 12th-century Romanesque church and a 1960s town hall by Gottfried Böhm, the only German Pritzker Prize winner, and is located just 25 minutes from Cologne.
PLAN YOUR TRIP: Visit Fodor's Cologne Guide
Courtesy of Fäviken Magasinet
WHERE: Järpen, Sweden
Chef Magnus Nilsson could perhaps be mistaken for a Viking, with his flowing blonde mane and his predilection for hunting and foraging among the rustic wilds of his 20,000-acre estate in rural Sweden. Nilsson has spent his career elevating indigenous Scandinavian ingredients—semi-decomposed birch leaves, moose marrow—to the level of haute cuisine, and a trip to Fäviken, one of the world's most isolated restaurants, serves as the ultimate showcase.
While You're There: Järpen is undoubtedly remote, about seven hours by car from Stockholm. Luckily, the Åre ski area, just 15 miles away, is one of Europe's biggest ski resorts north of the Alps and is well worth the travel time.
PLAN YOUR TRIP: Visit Fodor's Sweden Guide
Courtesy of Vila Joya Hotel and Restaurant
WHERE: Albufeira, Portugal
Perched on a lush cliff overlooking the Algarve coast, Vila Joya, a posh beach resort and spa, houses Portugal's finest restaurant, one of only a two two-Michelin-star spots in the country. Though chef Dieter Koschina hails from Austria, he shows a deep reverence for local ingredients, which you'll often find done up with Northern European techniques. The country's bacalhau (dried and salted cod), for example, comes served confit style with beet coulis and yogurt.
While You're There: Two and a half hours from Lisbon by car, Albufeira is the largest resort town on Portugal's Algarve coast, with crowded beaches backed by dramatic limestone cliffs and rock formations.
PLAN YOUR TRIP: Visit Fodor's Albufeira Guide
Courtesy of Restaurant De Librije
WHERE: Zwolle, Netherlands
Chef Jonnie Boer and his wife, sommelier Therese, grew up a stone's throw from their restaurant, De Librije, in historic Zwolle. Their childhoods were spent getting acquainted with the area's local bounty, often through playful exploration—catching pike-perch, gathering herbs, foraging for mushrooms. Their reverence for the Dutch landscape is equally matched by their connection to its history: The restaurant occupies a 15th-century Dominican abbey library, while their sister hotel, opened in 2008, sits inside the city's converted women's prison.
While You're There: Zwolle was the Hanseatic League's main trading port during its fifteenth-century heyday and the town still shows signs of its former glory in its star-shaped moat, stately merchant houses, and imposing brick fortifications. If you're traveling through Amsterdam, Zwollle is just 80 minutes by train.
PLAN YOUR TRIP: Visit Fodor's Netherlands Guide
Courtesy of Schloss Schauenstein
WHERE: Fürstenau, Switzerland
Chef Andreas Caminada just might rank as the king of Swiss cuisine—appropriate considering that he operates out of a luxurious 18th-century castle, Schloss Schauenstein. Though his restaurant is decidedly off the beaten path, tucked away in one of the world's smallest cities in the middle of the Swiss Alps, Caminada has a strong presence on the international food scene. In fact, he earned his third Michelin star by the age of 33, making him the youngest three-starred chef in all of Europe.
While You're There: Located in Switzerland's easternmost canton of Graubünden, about two hours from Zurich by train, Fürstenau is a gateway to the newly opened Beverin Nature Park, filled with Alpine meadows, glacial lakes, and the iconic long-horned ibex.
PLAN YOUR TRIP: Visit Fodor's Graubünden Guide
Courtesy of Hof Van Cleve
WHERE: Kruishoutem, Belgium
Chef Peter Goossens elevates the simple spoils of Belgium—such as eel, sea aster, dune asparagus, and endive—to modern masterpieces on his multi-course tasting menus, "Freshness of Nature" and the vegetarian "Field, Garden and Woods." Belgian designers and artists created the furnishings, linens, and glassware you'll find in the dining room at Hof van Cleve, and meals end with a visit from roving carts, stuffed with two of the country's most famous products: chocolate and cheese.
While You're There: Kruishoutem is home to the SONS Museum, dedicated to all things shoe-related: celebrity shoes, artist-made shoes, designer shoes, and shoes from more than 155 countries and regions. On your next visit to Brussels, rent a car and take the 50-minute journey west of the city.
PLAN YOUR TRIP: Visit Fodor's Belgium Guide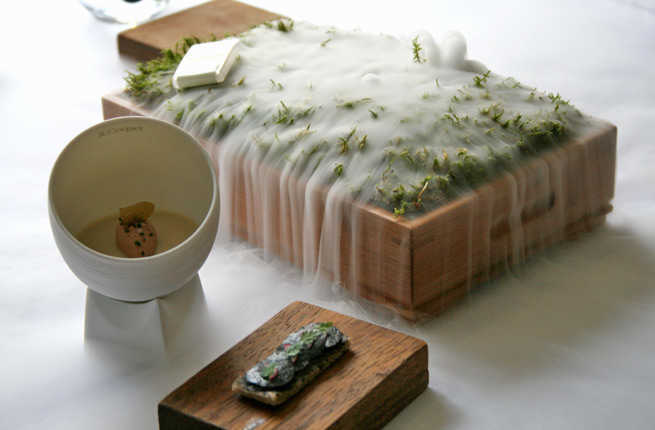 Ashley Palmer-Watts
WHERE: Bray, United Kingdom
The town of Bray may be quiet, but Heston Blumenthal's surreal culinary experiments are anything but; in fact, some even come complete with soundtracks. Take, for example, his "Sound of the Sea" dish, served with an iPod playing crashing waves. Other multisensory experiences include the brain-tricking bacon-and-egg ice cream and an Alice-in-Wonderland-inspired mock turtle soup that involves dissolving a "pocket watch" (gold-leaf-covered, freeze-dried beef stock) in a cup of broth "tea." Note: The Fat Duck will temporarily relocate to Melbourne for six months during renovations back home in Bray.
While You're There: About an hour from London Paddington station by rail, this tiny village on the Thames is something of a foodie hotspot, with the same number of three-Michelin-starred restaurants as London (two).
PLAN YOUR TRIP: Visit Fodor's England Guide