crolique/Shutterstock
From smooth gouda to sharp Roquefort, cheeses around the world are as varied as the locations they originated from. Each of these quesos has a unique history, some are thousands of years old or made from buffalo milk, others were beloved by kings. True cheese-lovers will need to make honorary pilgrimages to all of these locales to enjoy an authentic tasting experience you can't get at your local grocery store.
By Amanda Oppold
Rostislav Glinsky/Shutterstock
WHERE: Parma, Italy
The Experience: No cheese-tasting extravaganza is complete without some Parmesan. Remaining almost unchanged in its creation process and taste since the 12th century, and with strong ties to its area of origin, this King of Cheese is definitely worth the trip to Parma, Italy. You can tour dairies, visit the Parmigiano-Reggiano Museum, and afterwards sample the delicious cheese at the museum café. For dinner visit Trattoria Santa Chiara, where you'll start your meal with a plate of fresh Parmesan.
Where to Stay: Check in to the Parizzi Suite and Studio and enjoy feeling like Italian royalty in this refurbished 17th-century palace. Be sure to order delectable dishes from the hotel's restaurant.
PLAN YOUR TRIP: Visit Fodor's Parma Guide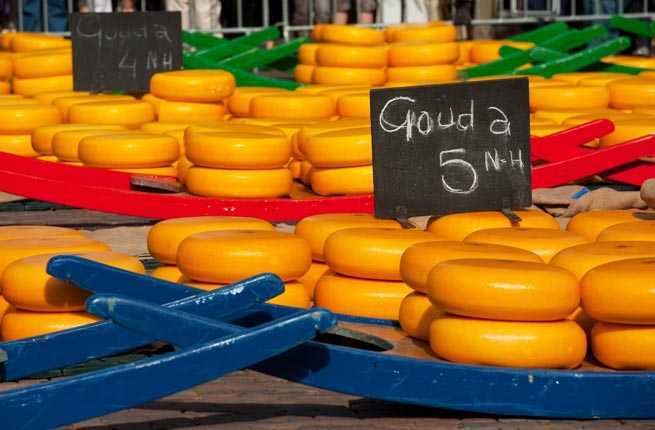 Ivonne Wierink/Shutterstock
WHERE: Gouda, Netherlands
The Experience: To get the true taste of Gouda, one of the oldest cheeses still made, travelers should embark on a pilgrimage to the South Holland town of Gouda (where the cheese was brought to market and thus named for). Fromage-enthusiasts can have their weight measured in cheese at the Waag (weighing-house), or stroll through the Cheese Museum where they'll enjoy tasty samples. Come during the summer to see the streets lined with rounds of cheese for the traditional cheese market. Haggle with farmers dressed in traditional garb, and then have your cheese weighed to get a fair price. For dinner dine at Gouda's Koeien en Kaas for delicious chocolate and cheese fondues.
Where to Stay: Check in to Rotterdam's Manhattan Hotel Rotterdam, only a half hour from Gouda. The only five-star hotel in the city offers luxury in-room dining with a delicious international cheese plate.
PLAN YOUR TRIP: Visit Fodor's Netherlands Guide
Tashka2000/Dreamstime.com
WHERE: Normandy, France
The Experience: A stop at Beaumoncel Manor, in Camembert, will take you back in cheese-history to 1791, when Marie Harel, one of the residents of Beaumoncel and the wife of a farmer, developed what has become one of France's most famous fromages. While in this charming Normandy town, visit the Président Farm and learn how Camembert is made. Don't miss Fromagerie Durand, the last Camembert farm to produce the cheese from raw milk and hand mold it in the traditional way. Be sure to get a picture by la Maison de Camembert; its round shape and white color makes it looks like a half open box of cheese. Visit the Maison in the summer for cheese-history, profiles of important cheese families, and to get your face on a Camembert label.
Where to Stay: Reserve one of La Camembertière's two rooms and then indulge at their restaurant, which specializes in dishes filled with Camembert.
PLAN YOUR TRIP: Visit Fodor's Normandy Guide
WHERE: Jouarre, France (50 mins from Paris)
The Experience: Brie, "the Queen of Cheeses," was first royally loved by King Charlemagne in 774 BC. It's rumored that King Louis XIV's dying wish was a final taste of this delicious soft cheese. With so much adoration, a visit to where this cheese is crafted (just outside of Paris) is essential for any true cheese aficionado. Visit Fromagerie Ganot to tour the Brie Cheese Museum, explore the refining cellars, and sample cheese and wine. For the total French cheese experience, travel back to Paris for a Tour de Fromage or enter cheese heaven at Pain Vin Fromages—a restaurant dedicated to cheese and whose menu includes six different types of cheese fondue and 50 raw-milk cheeses.
Where to Stay: Visitors will be well-fed at the Park Hyatt Paris Vendôme with it's Michelin starred restaurants, including Le Pur', which guests reach by walking through the extensive wine and cheese cellars.
PLAN YOUR TRIP: Visit Fodor's Paris Guide
Kheng Guan Toh/Shutterstock
WHERE: Gruyères, Switzerland
The Experience: Nestled in the alpine foothills and surrounded by lush pastures is the picturesque village of Grueyeres, home to some seriously delicious cheese. Engage all your senses and learn the secrets of Gruyère-making at le Maison du Gruyère or dine at their restaurant and indulge with a three-course cheese menu. Fromagerie les Martel also offers factory tours and has an on-site cheese shop.
Where to Stay: Keep taking in the mountain views and delicious cheese by staying at hotel La Fleur de Lys. There you can wake up to an ample breakfast buffet of traditional Swiss fare.
PLAN YOUR TRIP: Visit Fodor's Gruyères Guide
Erica Schroeder/Dreamstime.com
Artisanal Vermont Cheeses
WHERE: Manchester, Vermont
The Experience: Quickly becoming a cheese-lover's prime destination, Vermont has over 40 dairies and creameries, many open to the cheese-adoring public. Plymouth Artisan Cheese maintains an authentic American cheese heritage with their granular curd cheeses created through a process brought to America with the first European settlers. The factory was once owned by President Calvin Coolidge's father and is the centerpiece of the President Coolidge State Historic Site. Plan your own cheese road-trip by hitting as many cheese factories as you want on Vermont's Cheese Trail.
Where to Stay: Located in the historic heart of Manchester, The Equinox Resort offers colonial charm and delicious Vermont mac n' cheese at their chophouse.
PLAN YOUR TRIP: Visit Fodor's Manchester Guide
jmboix/Shutterstock
WHERE: Navarre, Spain (near Pamplona)
The Experience: One of Spain's most illustrious cheeses can be traced back to the 13th century when citizens of the Roncal Valley collectively raised sheep, drove them to the mountains in the spring, and back to the valley in the fall in order to produce rich, delicious cheese. To get the real lowdown on this cheese, visit Kabila Enea cheese factory in Uztárroz, which also houses the artifact-filled Cheese Museum. Dine at Europa Restaurante in Pamplona for a twist on traditional Navarran cooking, and finish with a dessert cheese platter.
Where to Stay: Splurge on a stay in Palacio Guendulain, a Spanish palace and architectural gem in the center of Pamplona. Featuring, of course, a restaurant with some queso-infused dishes.
PLAN YOUR TRIP: Visit Fodor's Pamplona Guide
enzodebernardo/Shutterstock
WHERE: Sorrento, Italy
The Experience: Made around Naples, originally from the milk of water buffalo (Mozzarella di Bufala), but now more commonly from cow's milk (mozzarella fior di latte), this Italian cheese is undoubtedly one to travel for. Try your hand at braiding fresh mozzarella during a cheese factory tour in Sorrento, and sample the incredibly fresh cheese afterwards.
Where to Stay: The luxurious Don Alfonso offers amazing accommodations, on-site cooking classes, guided tours of local dairy farms, and a widely acclaimed restaurant.
PLAN YOUR TRIP: Visit Fodor's Sorrento Guide
1eyeshut/Shutterstock
Emmentaler (the real Swiss cheese)
WHERE: Bern, Switzerland
The Experience: Considered Switzerland's oldest and most prestigious cheese, Emmentaler begs a visit to the Emmental Valley where it originated. To produce this delectable product, the diet and health of Emmental cows are closely monitered by the farmers. Stop by Emmentaler Schaukäserei to see the blend of modern and traditional cheese-making methods. You'll also have the chance to make your own cheese, and dine at the dairy's restaurant.
Where to Stay: The elegant and contemporary Bellevue Palace is the perfect place to relax after a day of cheese-indulgence.
PLAN YOUR TRIP: Visit Fodor's Bern Guide
crolique/Shutterstock
WHERE: Aveyron, France – near Montpellier
The Experience: With supposed mention of this blue cheese dating back as far as 79 AD, and the prestigious Roquefort name only bestowed on cheeses aged in the Roquefort Caves, this cheese is a must-visit for true fromage-fans. Tour the caves and learn how this legendary cheese was first accidentally made by a shepherd who forgot his sandwich in the caves and returned months later to find it moldy…and delicious! This extensive museum will lead you salivating to the end where you'll sample cheeses and visit the cheese shop.
Where to Stay: In Montpellier, enjoy a voluminous and comfortable room at the Baudon de Mauny, an urban mansion that was renovated to an 8-room bed-and-breakfast.
PLAN YOUR TRIP: Visit Fodor's Montpellier Guide