Courtesy of ION Luxury Adventure Hotel
While cities such as Shanghai, Dubai, and Toronto have long been known for their futuristic-looking hotels, they've hardly cornered the market on cutting-edge properties. These days, some of the world's most innovatively designed accommodations are popping up in less cosmopolitan places, from a national park in Iceland to the misty rain forest of India. Some feature minimalist décor that enhances the natural surroundings, while others offer first-rate amenities in places not typically known for luxury. Either way, these 10 stunning hotels provide memorable experiences in places where you'd least expect to find them.
by Christina Valhouli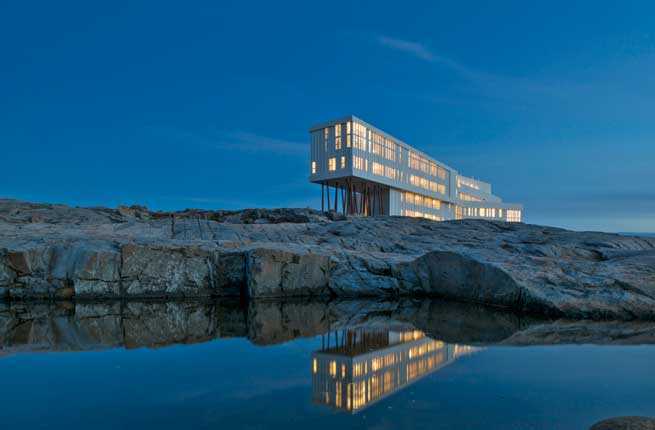 Courtesy of Fogo Island Inn
Fogo Island Inn
WHERE: Fogo Island, Newfoundland
This hotel looks like a cross between a shipping container and a sleek cruise liner, and has a dramatic location on an island off Newfoundland's northeast coast. All 29 suites at Fogo Island Inn have floor-to-ceiling windows to take in the dramatic ocean views. The inn also has a library, cinema, yoga space, and wood-fired rooftop sauna. What's more, Fogo Island Inn is heavily invested in the local community; every piece of furniture and textile was made by hand from a local artisan, and all earnings are reinvested back into the community, which is known for its fishermen and boat building
Insider Tip: The hotel offers plenty of hands-on experiences that range from art workshops to guided hikes. The Cod Culture Expedition allows guests to travel in a traditional wooden skiff to the offshore Little Fogo Island and try their luck catching cod.
PLAN YOUR TRIP: Visit Fodor's Newfoundland Guide
Courtesy of Amanresorts
Amanoi
WHERE: Ninh Thuan Province, Vietnam
A recent addition to the Aman resort family is located within Vietnam's Nui Chua National Park, with views of rolling hills and the South China Sea. The design at Amanoi has all the modern elements that Aman hotels are known for. Guest rooms are spread out over 31 pavilions and the décor blends contemporary elements with traditional Vietnamese touches. For those who want to stay active, there's a Pilates studio and lakeside yoga pavilion. Amanoi can arrange private tours of Nui Chua National Park or guests can simply relax at the Beach Club.
Insider Tip: Nui Chua became a national park in 2003 and covers more than 60,000 acres.
PLAN YOUR TRIP: Visit Fodor's Vietnam Guide
Courtesy of Dunton River Camp
Dunton River Camp
WHERE: Dolores, Colorado
Dunton River Camp is the newest outpost from Dunton Hot Springs, a resort that was built on the site of an old ghost town. The River Camp is located about four miles away and has just eight luxury tents on the banks of the Dolores River. The look is contemporary rustic, and guests will be glamping in style thanks to full bathrooms, gas stoves, and hand-woven blankets.
Insider Tip: Dunton River Camp has just installed a custom mobile sauna from Portsmouth, New Hampshire-based Surf Sauna right on the banks of the Dolores River and is the first resort in North America to have one.
PLAN YOUR TRIP: Visit Fodor's Colorado Guide
Courtesy of ION Luxury Adventure Hotel
ION Luxury Adventure Hotel
WHERE: Selfoss, Iceland
Built from sustainable material and powered by hot water from a geothermal source, the ION Luxury Adventure Hotel offers a truly unique experience an hour from Reykjavík. The hotel's location is ideal for watching the Northern Lights, and the in-house bar is named after this peculiar phenomenon. Lava rocks, waterfalls, and natural hot springs can all be found in the area, or spend your time hiking, horseback riding, fishing, or exploring Thingvellir National Park, a UNESCO World Heritage Site. The hotel's Silfra restaurant serves modern Nordic cuisine, such as reindeer burger in a brioche bun or a Nordic club sandwich made with salmon.
Insider Tip: Nearby Lake Pingvallavatn is where the Eurasian and North American tectonic plates meet, and divers can swim in the "crack" between the two plates.
PLAN YOUR TRIP: Visit Fodor's Iceland Guide
Courtesy of Vivanta by Taj – Madikeri, Coorg
Vivanta by Taj—Madikeri
WHERE: Coorg, India
The new Vivanta by Taj—Madikeri is the only luxury hotel located in the Coorg region in the southwestern state of Karnataka. This area is known for its rainforests, coffee, and cardamom. The design of the hotel is sleek and sustainable; cottages are painted with organic mud paints and the hand-made roof tiles were repurposed from dismantled houses. The open-air lobby and indoor pool make the most of the misty view, and the guest rooms are modeled after a traditional Coorg home.
Insider Tip: There is a sacred grove on the property, which guests can visit accompanied by a guide.
PLAN YOUR TRIP: Visit Fodor's India Guide
Daniel Corvillon
Refugia Lodge
WHERE: Chiloé, Chile
The design inspiration for the new Refugia Lodge is Chiloé's "palafito" homes. As such, one portion of the hotel is built on top of concrete stilts, and the lodge's exterior is made from sustainably harvested wooden shingles. The hotel's unique design is meant to deflect wind coming off the sea as well as maximize the use of natural sunlight with strategically placed windows. Refugia has just 12 rooms, which feature handmade textiles and sea views.
Insider Tip: Chiloé is Chile's largest island and is known for its colonial-era wooden churches (a UNESCO World Heritage Site) and blue whales.
PLAN YOUR TRIP: Visit Fodor's Chiloe Guide
Photo Courtesy of VisitGreenvilleSC
Hotel Domestique
WHERE: Travelers Rest, South Carolina
If you're the kind of person who doesn't like to sit still on vacation, then book a stay at Hotel Domestique. This 13-room modern property, located in the Blue Ridge Mountains, has a huge selection of bike trails in the area, with routes hand-picked by 17-time Tour de France cycler George Hincapie. To explore the nearby vineyards, guests can rent a high-end Carbon BMC bike for a hosted group ride, or break a sweat at the fitness studio or the pool. The guest room décor is a mix of Mediterranean and modern; rooms have wrought-iron beds, French doors, and soaking tubs to help ease sore muscles.
Insider Tip: Nearby Greenville has more than 100 restaurants on its Main Street and is becoming known for its crafts beers and distilleries. Dark Corner Distillery produces moonshine and corn whiskey using traditional techniques.
PLAN YOUR TRIP: Visit Fodor's Greenville Guide
Christian Harder
The Dean
WHERE: Providence, Rhode Island
Providence is best known for being the home of Brown University, but has recently emerged as a design and foodie hotspot. The city finally has a cool new boutique hotel in the The Dean, a former homeless shelter and gentlemen's club. The hotel is decorated with a mix of vintage and modern pieces, many of which were commissioned by local artists, and there's also an in-house beer garden, coffee bar, and karaoke lounge.
Insider Tip: One of the newest restaurants to open in Providence is The Salted Slate, helmed by chef Ben Lloyd.
PLAN YOUR TRIP: Visit Fodor's Providence Guide
Kura Design Villas, Cayuga Collection
Kura Design Villas
WHERE: Uvita, Costa Rica
Kura Design Villas opened in late 2012 in the heart of Marino Ballena National Park, where the rainforest meets the Pacific. The property has just six open-concept villas, which are made from wood, glass, and concrete. The property is also environmentally friendly; electricity and hot water are solar powered. For unwinding, the hotel has a salt-water infinity pool as well as a spa, but most guests will want to explore the marine park. Kura Design Villas can arrange whale and dolphin-watching tours, or explore a natural water cave at nearby Caño Island.
Insider Tip: Costa Rica is believed to have 4% of the Earth's biodiversity, and Corcovado National Park, located nearby in the Osa Peninsula, has 3% of it. Animals found here include spider monkeys, raccoons, sloths, and pumas.
PLAN YOUR TRIP: Visit Fodor's Costa Rica Guide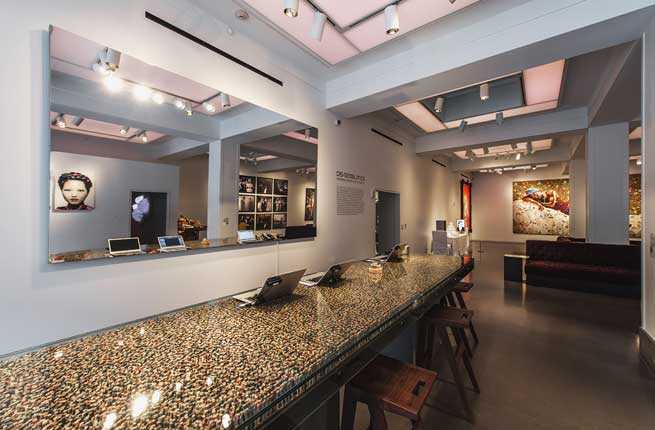 Courtesy of 21c Museum Hotel Cincinnati
21c Museum Hotel
WHERE: Cincinnati
This hotel is one of the newest outposts of 21c, purveyors of art museum-hotel hybrids. The Cincinnati location is located in the 100-year-old former Metropole Hotel. Many of the Metropole's original features were preserved, including mosaic tile floors and intricate plasterwork, but with updated amenities. The décor is modern and playful, and keep your eyes peeled for yellow penguins scattered around the hotel. The 156 guest rooms at the 21c feature original artwork and a sleek design. The hotel also has 8,000 square feet of exhibition space open to the public at no charge.
Insider Tip: 21c Cincinnati hosts a weekly yoga class in the property's gallery space and sessions are only $5/person.
PLAN YOUR TRIP: Visit Fodor's Cincinnati Guide