Courtesy of The Resort at Pelican Hill
Forget about over-the-top amenities, fancy linens, and cutting-edge cuisine—sometimes all you care about at a hotel is having a gorgeous pool to dive into. That's never truer than in summer, when both locals and travelers flock to the best outdoor hotel pools for sunshine, swimming, and a lively scene. Whether you're looking for rejuvenation in the world's largest hot-springs pool, a thrilling swim over the edge of a building, or a nighttime dip while watching a movie under the stars, these hot properties all offer an escape from the heat and deliver on that "wow" factor.—Zachary Laks
Courtesy of Four Seasons Hotel Seattle
Four Seasons Hotel Seattle
WHERE: Seattle, Washington
Downtown Seattle's Four Seasons Hotel offers a luxurious urban retreat just a short stroll from the city's waterfront. Though the pool deck is open year-round, it's at its best June through September when guests can expect Evian spritzes and lavender-scented chilled towels along with complimentary sunglasses cleaning, frozen grapes, and sunscreen lotion. There's also bar and grill service (weather permitting) so you can dine al fresco in a poolside cabana while enjoying views of the Olympic Mountains, Bainbridge Island, and Elliott Bay.
PLAN YOUR TRIP: Visit Fodor's Seattle Travel Guide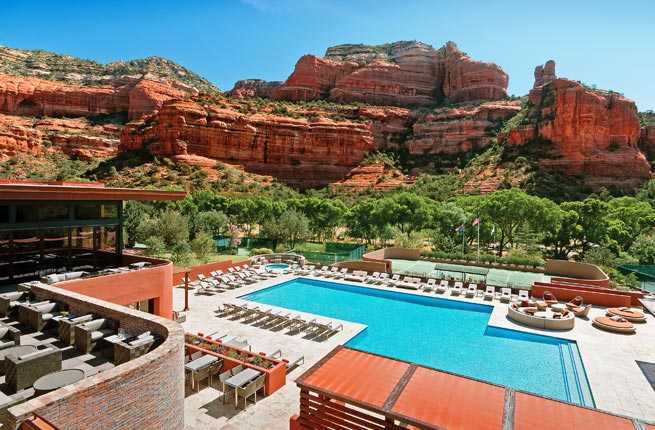 Courtesy of Enchantment Resort & Mii amo Spa
Enchantment Resort
WHERE: Sedona, Arizona
Boynton Canyon provides the incredible backdrop for Enchantment Resort's plus-sized swimming pool. Heated to 82 degrees year-round, the 78-foot-long pool serves as a meeting ground for the hotel's guests to take in the stunning sights in the sun. (In recent years, the pool was doubled in size and was raised 10 feet for better canyon views.) It's easy to pass the day lounging at the pool, as the bar offers cocktails and flatbreads to be enjoyed on the pool deck or in private cabanas for rent.
PLAN YOUR TRIP: Visit Fodor's Arizona Travel Guide
Courtesy of The Rooftop at The Standard, Downtown LA
The Standard, Downtown LA
WHERE: Los Angeles, California
Downtown LA's party pool at The Standard starts up daily at noon and carries on until 2 am. The pool itself may be relatively simple and small, but bright red cabanas, an AstroTurf deck, and nouveau cocktails set the hip scene. Also on the rooftop space is a retro-chic beer garden serving up German classics including pretzels, wieners, and of course, plenty of cold German lager. The pool is open to the public throughout the week, but make sure to call ahead on weekends because guest-list-only events can limit access.
PLAN YOUR TRIP: Visit Fodor's Los Angeles Travel Guide
Courtesy of Glenwood Hot Springs Lodge & Pool
Glenwood Hot Springs Lodge & Pool
WHERE: Glenwood Springs, Colorado
It's hard to resist the urge to dive right into the pool at Glenwood Hot Springs Lodge, the world's largest hot-springs pool at 405 feet long and 100 feet wide. Kick back and relax in pool chairs built into the springs and chaise lounges, or cool off in ample shady areas. Fifteen rich minerals in the water attract travelers from around the world seeking natural relaxation and healing, with health benefits including elimination of body toxins and increasing blood flow. The hot springs are kept at a comfortable 90 degrees throughout the year and are open to the public with rates reaching $21 on peak weekends.
PLAN YOUR TRIP: Visit Fodor's Colorado Travel Guide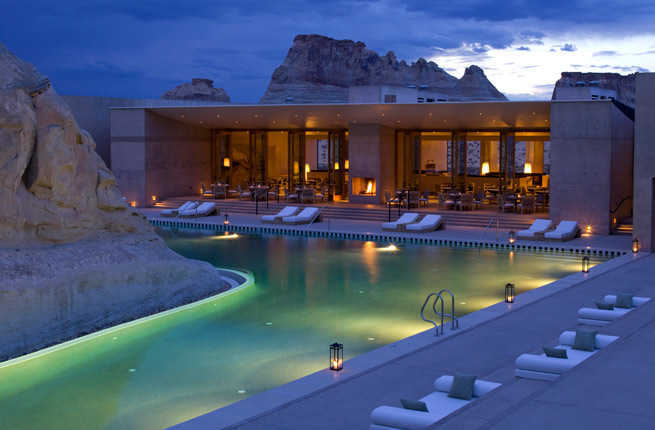 Courtesy of Aman Resorts
Amangiri
WHERE: Canyon Point, Utah
Delightfully off the grid on 600 acres of southern Utah desert, Amangiri was built to blend in with its incredible mountainous surroundings. Architects mastered the installation of a pool oasis in the desert by incorporating the onsite rock wall to stand as nearly a third of the pool wall. The outcome is a stunning, serene pool that fits perfectly into the canyon. Add in a hot tub and king-sized daybeds (some even float), and you have reason to never leave the poolside.
PLAN YOUR TRIP: Visit Fodor's Utah Travel Guide
Courtesy of The Raleigh Miami Beach
The Raleigh Miami Beach
WHERE: Miami Beach, Florida
A lasting icon of South Beach, The Raleigh's signature art deco pool has been a hotspot on the beach for decades, rocketing to fame in the 1950s as the backdrop for several feature films. The fame of the pool and its one-of-a-kind shape continues today, as Chanel fashion shows and exclusive parties regularly take over the deck. The pool's revitalized, contemporary feel is accented with tropical landscaping and ample chaise lounges, perfect for a refreshing mojito from the poolside bar. Non-guest access is $25 for weekdays and up to $50 on the weekend.
PLAN YOUR TRIP: Visit Fodor's Miami Travel Guide
Courtesy of Chelsea Hotels, Todd Eberle
McCarren Hotel & Pool
WHERE: Brooklyn, New York
Manhattan has multiple outdoor hotel pools that attract crowds of those who want to see and be seen, but Brooklynites and travelers in the know head to Williamsburg's McCarren Hotel & Pool, a trendy salt-water oasis in a borough not typically known for hotel pools. Being a relative rarity in the area, the pool fills up quickly on weekends, with a reservation system that allows sun worshipers to reserve a sun bed up to a week in advance. While hotel patrons have free access to the pool, day rates for non-guests can reach $60 on weekends.
PLAN YOUR TRIP: Visit Fodor's Brooklyn Guide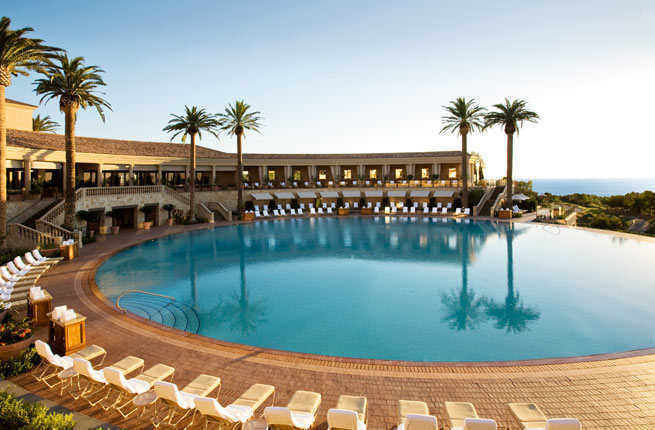 Courtesy of The Resort at Pelican Hill
The Resort at Pelican Hill
WHERE: Newport Coast, California
Just south of Los Angeles, The Resort at Pelican Hill's centerpiece Coliseum Pool is a marvel of geometric perfection. With a diameter of 136 feet, the private, hotel-guests-only pool is one of the world's largest circular pools. Relax in the California sun on one of the lounge chairs that line the permieter and overlook the ocean and coastline, then cool off in 380,000 gallons of salt water. Of the many well-appointed details found on the pool deck, take special note of the pool's blue-glass mosaic bottom of more than one million hand-cut tiles.
PLAN YOUR TRIP: Visit Fodor's Orange County and Catalina Island Travel Guide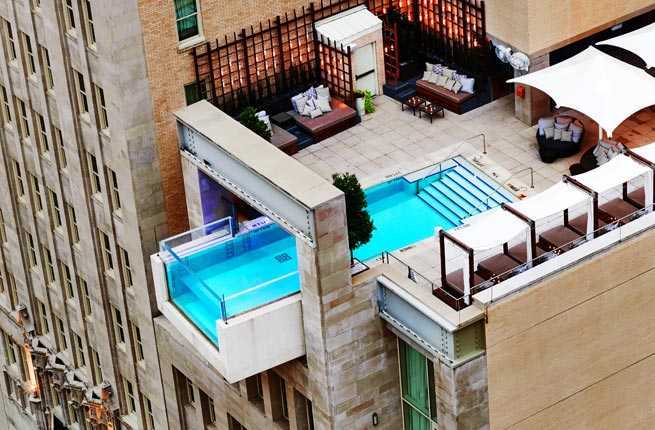 Eric Laignel
The Joule Dallas Hotel
WHERE: Dallas, Texas
Going over the edge in style, The Joule's masterwork pool dangles eight feet over the frame of the building, 10 stories above Main Street. Though smaller in scale and offering less deck service than other locations on this list, the main attraction here is the jaw-dropping glass-walled view of downtown Dallas, seen at the pool's rim. This gem is only open to guests of the hotel, so be sure to book accordingly on your next trip to Dallas.
PLAN YOUR TRIP: Visit Fodor's Dallas-Fort Worth Travel Guide
Courtesy The Cosmopolitan of Las Vegas
The Cosmopolitan of Las Vegas
WHERE: Las Vegas, Nevada
The Cosmopolitan of Las Vegas, unveiled in 2010 at an estimated cost of $3.9 billion, arrived on the Strip touting the Boulevard Pool, a high-end, multi-purpose place for its guests to play. In a city where hotel pools go to great lengths to impress, the Boulevard Pool delivers panoramic views of the Vegas Strip and a concert venue with A-list performances all summer long. On nights when the concert stage is dark, the Boulevard Pool hosts its popular "Dive In Movies" series ($5 per person, free for guests), where viewers can float while taking in a Hollywood blockbuster on the pool's giant movie screen.
PLAN YOUR TRIP: Visit Fodor's Las Vegas Travel Guide