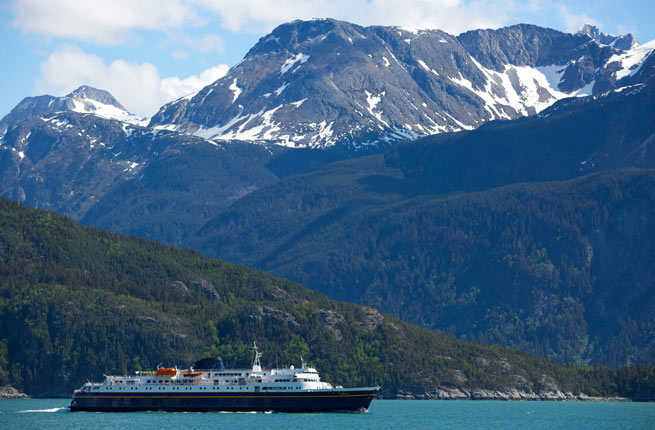 Courtesy of Alaska Marine Highway System; Photo by Brian Adams
There's something about sightseeing from the water that just can't be beat. Ferryboats offer the most scenic, economical, and often the fastest, way to get from one point to another. Here are 20 of the most sensational ferry rides, offering everything from thrilling urban skylines to breathtaking natural beauty. Most of these ferries have onboard amenities—from free WiFi, restaurants, and lounges to sleeper berths—making your transit totally stress-free. All you need to do is sit back and enjoy the ride! —Jennifer Ladonne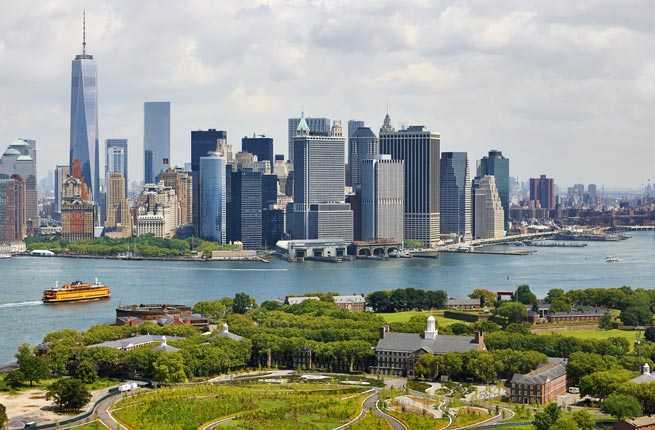 R.A.R. de Bruijn Holding BV / Shutterstock
Whoever said the best things in life are free must have had the Staten Island Ferry in mind. One of the world's most breathtaking—and romantic—rides has glorious views of the Manhattan skyline and the Statue of Liberty. New York City has evolved dramatically over the decades, but this humble, nine-vessel fleet has conveyed New Yorkers in much the same way for more than 200 years. The five-mile, 25-minute ride offers the very best views of lower Manhattan and runs 24 hours a day, 365 days a year in all weather (every 30 minutes on holidays, from 7 am to 11 pm). Departures are from the Whitehall terminals in lower Manhattan, between South St. and Battery Park. Remember, this commuter ferry carries more than 70,000 New Yorkers a day, so it's best to avoid rush hour (8–10 am and 5–7 pm).
PLAN YOUR TRIP: Visit Fodor's New York City Guide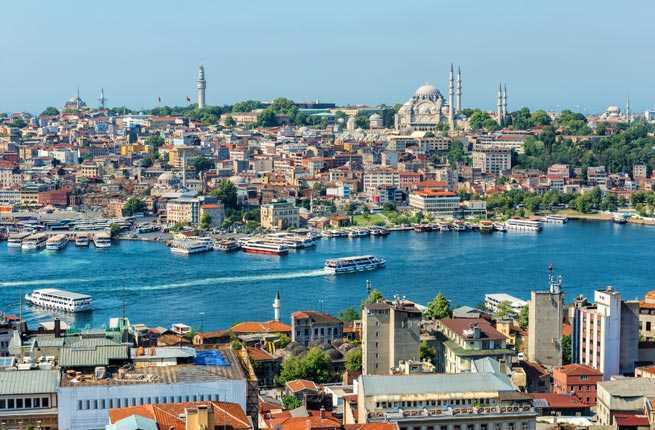 Vincentstthomas | Dreamstime.com
Nowhere else can you glide so easily between two continents while viewing one of the world's most picturesque cities than on one of Istanbul's Golden Horn ferry rides. An ancient waterway that separates Europe from Asia, the Bosphorus River offers spectacular, up-close views of Istanbul's minarets, mansions, bridges, and old Ottoman buildings. If you have the time, TurYol offers a six-hour ferry ride, from Eminönü ferry dock, near the Galata Bridge on the European side, that takes you to the ancient Ottoman fortress of Rumelihisari and back (tours depart every hour). Sehir Hatlari offers both a six-hour and a two-hour tour, operating from Eminönü, with stops along the way, plus convenient commuter ferries. An adventurous alternative to public transport—at the same price—both TurYol and Dentur Avrasya ferries crisscross the Bosphorus all day and night and offer more formal tours as well.
PLAN YOUR TRIP: Visit Fodor's Istanbul Guide
Majeczka | Dreamstime.com
Though a newly fashionable destination, Croatia boasts one of Europe's least commercialized stretches of coastline, with jewel-like islands, pristine beaches, and authentic villages that enchant visitors with their old-world charm. Croatia's 100-year-old national passenger boat company, Jadroilinija, runs the popular route year-round from Ancona, on Italy's eastern coast, to historic Split, Croatia's second largest city. From Split, you can take a faster, passenger-only catamaran to the beautiful island of Hvar. Jadroilinija also runs ferries from Bari to Dubrovnik and from Ancona to Zadar.
PLAN YOUR TRIP: Visit Fodor's Croatia Guide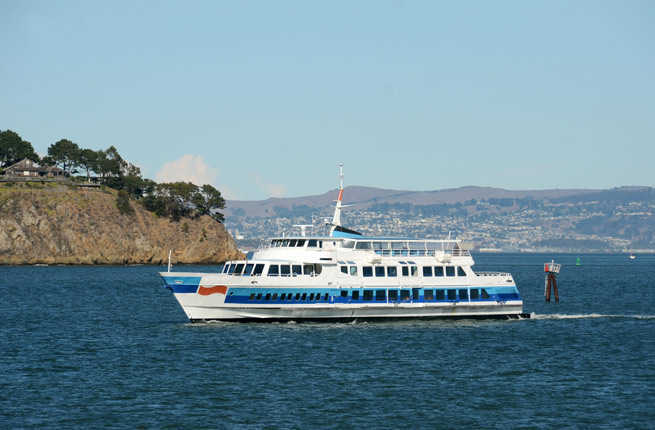 Icholakov | Dreamstime.com
Traversing the Golden Gate Bridge is an exhilarating experience, but why not let someone else do the driving while you enjoy breathtaking views of the Golden Gate and Bay Bridges, Alcatraz and Treasure Islands, Tiberon, and the beautiful San Francisco skyline? The Golden Gate Ferry, from Larkspur and Sausalito, is the best way to take in amazing views from the water while traveling in a smooth, comfortable ferry, complete with coffee, snacks, and a bar. Plentiful parking on the Larkspur side makes the ferry a stress-free and economical way to enter the city. The San Francisco Ferry Terminal, at the foot of Market Street, is convenient to public transportation throughout the city and only a 10-minute walk to Union Square. On Saturdays, the famous Ferry Plaza Farmer's Market, at the Ferry Terminal, is a wonderful way to experience the city's famous gourmet culture.
PLAN YOUR TRIP: Visit Fodor's San Francisco Guide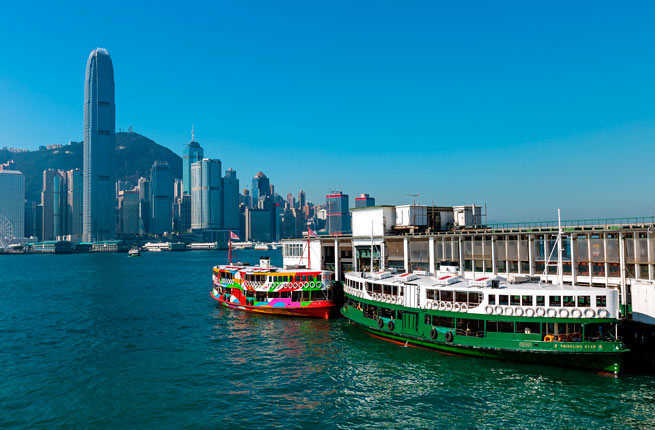 Daniel Fung / Shutterstock
There's no better way to take in one of the world's most memorable skylines than on Hong Kong's most iconic ferry boat. Since 1888, Hong Kong's Star Ferry has been circling the Victoria Harbor, offering breathtaking views of the city both day and night while connecting Central and Wan Chai with Kowloon in less than 10 minutes. On the charming double-decker Shining Star ferry, a re-creation of a 20s-era boat, you can enjoy the views from the air-conditioned onboard café or on the open deck. Boats depart from three different piers on both sides of the harbor, an easy opportunity to skip from one side to the other.
PLAN YOUR TRIP: Visit Fodor's Hong Kong Guide
Courtesy of MBNA Thames Clippers
The fastest, easiest, and most economical way to traverse London's famous waterway, the Thames Clippers stop at a dozen of the city's major sightseeing areas—including the London and Tower Bridges—between the London Eye-Waterloo and North Greenwich stops, with peak-time extensions to Putney in the west and Woolwich Arsenal in the east. The service runs every 20 minutes (at peak-time) from 6:30 am–11 pm on weekdays and 9:30 am–midnight on weekends. Travelcard and Oyster card holders receive a discount. Art lovers benefit from the Tate to Tate Express, a 15-minute trip between the Tate Britain (Millbank) and Tate Modern (Bankside) that runs every 40 minutes, seven days a week from 9 am–7 pm.
PLAN YOUR TRIP: Visit Fodor's London Guide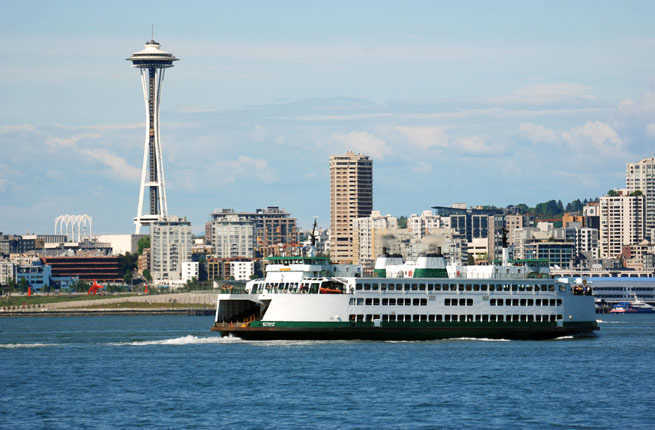 Courtesy of Visit Seattle
Seattle's island-clogged Puget Sound makes ferry travel to and from the city a way of life. It's no surprise that Washington State Ferry, part of the Washington State Department of Transportation, is the largest ferry fleet in the United States, and the third largest operator in the world, carrying more than 23 million passengers a year. For visitors, the breathtakingly gorgeous commute to Bainbridge Island, where you can stroll the waterfront, dine in style, tour a vineyard, or rent a bike for the day is a must. Although crowded at rush hours and weekends—when wait times with a car can be several hours—the ferry is a quick, economical, and easy way to explore this great U.S. city.
PLAN YOUR TRIP: Visit Fodor's Seattle Guide
Unique2109 | Dreamstime.com
Romantic doesn't begin to describe the experience of traversing Switzerland and Italy's legendary lakes in an elegant steamer or charming restored paddleboat. Navigazione Laghi offers year-round service on deep-blue Lake Maggiore, Lake Garda, and the peerless Lake Como, a favorite of the rich and famous. With a fleet of 90 vessels—including historic pleasure boats and faster hydrofoils and catamarans, many with a café-restaurant for drinks, snacks, and hot dishes at mealtimes—Navigazione Laghi also provides the famous Swiss service, safety, and cleanliness that make for a perfect trip. Trips are economical and can last from 20 minutes to well over an hour. Service is 365 days a year, but greatly reduced in wintertime, so be sure to check the website for detailed timetables.
PLAN YOUR TRIP: Visit Fodor's Milan, Lombardy, and the Lakes Guide
Khellon | Dreamstime.com
The billowing white sails of the Sydney Opera House and the Sydney Harbour Bridge make a stunning twosome, best seen from a boat on Sydney's glittering blue bay. One of the world's oldest ferry lines, Sydney Ferries has been transporting people to and from the harbor since the late 18th century. Now part of the Sydney public transport system, this is the best way to see the harbor-side sights, such as Taronga Park Zoo and Sydney's plush coastline. The ferries also stop at Darling Harbor, Manly Beach, and destinations farther afield, like Parramatta and Meadowbank, for the fraction of the price of a boat tour. Ferries are equipped with snack bars for an ice cream or beverage, or you can bring your own picnic for a fun family outing.
PLAN YOUR TRIP: Visit Fodor's Sydney Guide
Another of the world's largest ferry operators, BC Ferries is the best, and sometimes only, way to access the many ports of call connecting Vancouver and British Columbia's west coast. The company offers a commuter service from two ferry terminals outside Vancouver, as well as several lengthier trips and vacation tours on specialized boats, which are the best way for visitors to get a feel for this watery wonderland and its many island paradises. Ferries from Tsawwassen, an hour south of downtown Vancouver, sail to Swartz Bay, Nanaimo, and the Southern Gulf Islands. From Horseshoe Bay (45 minutes north of downtown), ferries sail to the Sunshine Coast and Nanaimo. Vehicles and bikes are permitted but reservations are required.
PLAN YOUR TRIP: Visit Fodor's Vancouver Guide
Courtesy of Alaska Marine Highway System; Photo by Brian Adams
Alaska Marine Highway System
With over 650,000 square miles of mountains and wilderness—all with scant road access—and coastline on three sides, Alaska's coastline is best experienced by ferry travel. The Alaska Marine Highway System, a group of seagoing routes that start in Bellingham, Washington, and extend some 3,500 miles to Dutch Harbor, Alaska, with more than 30 stops along the way, takes you off the beaten path. With stops at Prince Rupert, Ketchikan, Wrangell, and many more towns, you'll have a chance to whale watch, visit Native American communities, and take in some truly spectacular scenery. Book a cabin for up to four people, with your car onboard, or pitch a tent on deck and sleep under the stars. With restaurants, a reading room, arcade, observation decks, and cocktail lounges you'll have everything you need for your Alaskan adventure.
PLAN YOUR TRIP: Visit Fodor's Alaska Guide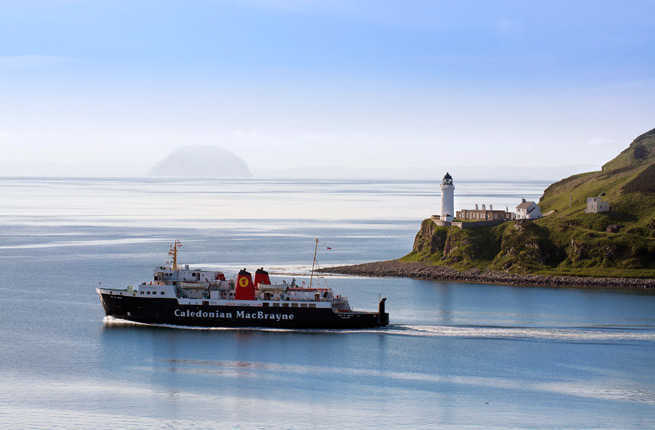 Allan Wright
The green and windswept Scottish Isles of Skye, Arran, Iona, Fair Isle, and the Hebrides have inspired poets and writers for hundreds of years. The Caledonian MacBrayne—the largest fleet of car and passenger ferries in the UK—gives unparalleled access to these magical land and seascapes, with their ancient abbeys and churches, standing stones, and pristine beaches, not to mention gorgeous landscapes and untouched wildlife. The most popular routes offer up to two ferries a day and often take under an hour, making it easy for day or overnight trips. Ferries are large, modern, and offer all manner of Scottish delicacies onboard (whisky, cheeses, salmon, and shortbread), as well as shops, arcades, and coffee bars. Vehicles can come onboard, too.
PLAN YOUR TRIP: Visit Fodor's Scotland Guide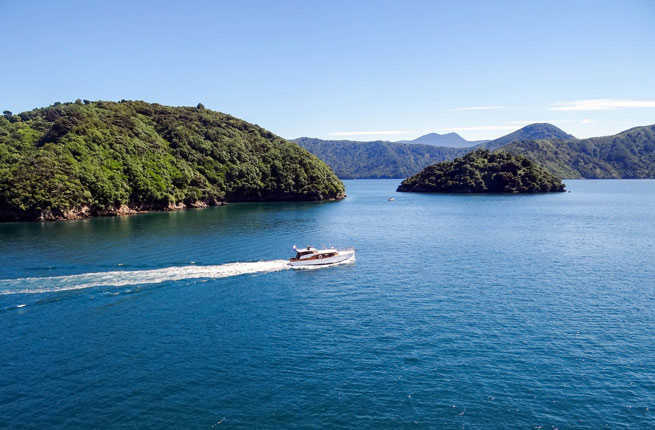 Stevelarsen | Dreamstime.com
A relative newcomer, Bluebridge Cook Straight Ferry (founded in 2002) offers state-of-the-art ferries and cruise ships connecting New Zealand's North and South Islands. Whales, dolphins, and seabirds are just a part of the spectacular scenery to be seen on this route. From Wellington on the North Island to Picton on the South Island, through the Tory Channel in the Marlborough Sounds, you'll take in pristine beaches, rolling vineyards, and the lush native flora and fauna all under New Zealand's famously spectacular skies. The overnight trip offers every onboard amenity, including private sleeper cabins, gourmet foods (and gluten-free menus), New Zealand wines, free WiFi, and movies galore. Take your car on the ferry or rent one at your destination.
PLAN YOUR TRIP: Visit Fodor's New Zealand Guide
If you've ever wondered what the California coastline looked like before unbridled development and sullied beaches were the norm, head to Catalina Island. Located just 22 miles off the LA coastline, across from Long Beach and Newport Beach, Catalina is a kind of island paradise, complete with 50 miles of unspoiled coastline, pristine beaches and coves, and 42,000 acres of protected mountains, canyons, and rolling fields. If you don't own your own yacht, Catalina Express runs up to 30 high-speed ferries per day, with departures from Long Beach, San Pedro, and Dana Point that zip you to Catalina's towns of Avalon or Two Harbors in an hour. Bikes and surfboards can be brought onboard for a minimal fee.
PLAN YOUR TRIP: Visit Fodor's Catalina Island Guide
Dbvirago | Dreamstime.com
Whether you're going for the day, a long weekend, or a longer stay, Virgin Islands Ferries is your best bet for getting to and around the British Virgin Islands. Quick and economical, there's frequent daily ferry service from Red Hook and Charlotte Amalie on St. Thomas to Cruz Bay, St. John. There is also frequent service from Cruz Bay to Tortola and less frequent service to other British Virgin Islands, including Jost Van Dyke. You can find detailed ferry schedules and other information at the St. John's Virgin Islands website and the Virgin Islands Vacation Guide & Community websites.
PLAN YOUR TRIP: Visit Fodor's Virgin Islands Guide
Niradj | Dreamstime.com
Dreaming of sun-drenched whitewashed terraces, mile-long beaches, vineyards, olive groves, and the deep blue sea? Blue Star Ferries offers Greek Island hoppers a wealth of options from the mainland port of Piraeus to more than a dozen of Greece's legendary Islands, in the Cyclades, Dodecanese, and the Aegean. Explore just one or several of the islands of Mykonos, Syros, Ios, Santorini, Rhodes, Mytilene, Karpathos, and many more. Most ferries offer food service (though beware of high prices) and private cabins for longer trips—including an exclusive service called Pure Cabin, with purified air for allergy sufferers.
PLAN YOUR TRIP: Visit Fodor's Cyclades Guide
Seasoned travelers know that Norway's intricate labyrinth of fjords, magnificent land and seascapes (many UNESCO World Heritage sites) running the length of Norway's coastline, are one of the world's great scenic boat tours, where mountains plunge straight to the sea and spectacular waterfalls tumble from breathtaking heights. One of the main ferry companies traversing the fjords (and the most environmentally friendly), Fjord1 offers an extensive network of ferry routes from Norway's major cities and smaller towns. Ferries run frequently during the day and cover the country's entire coastline. You'll find detailed maps and timetables on the website, as well as important tourist information, to make planning your trip simple.
PLAN YOUR TRIP: Visit Fodor's Norway Guide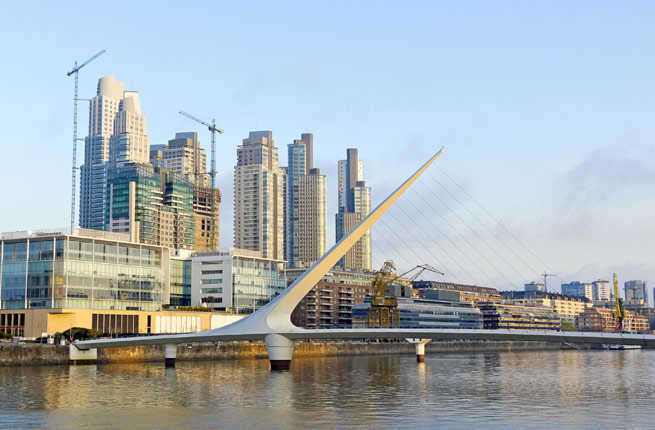 Toniflap | Dreamstime.com
A ferryboat on the Río de la Plata estuary, a confluence of the Uruguay and Paraná Rivers between Argentina and Uruguay, is a fast, economical, and scenic way to get from Buenos Aires to the Uruguayan cities of Colonia, Carmelo, Punta del Este, Piriapolis, and Montevideo. Whether you're headed to Uruguay's luxurious beaches or just want to take in sweeping views of the coastline, Seacat Colonia offers quick passage (an hour or less to Colonia and three hours to Montevideo) to all four cities for the best price around. The company also offers package deals that include rental cars and hotels, should you feel like prolonging your stay or exploring a little after beach time.
PLAN YOUR TRIP: Visit Fodor's Buenos Aires Guide
The venerable Steamship Authority offers the most frequent and reasonable year-round daily ferry service to the storied New England seaside towns of Wood's Hole and Hyannis, Cape Cod, to Martha's Vineyard and Nantucket Islands. Ferries between Hyannis and Nantucket depart six times a day in high season and passengers have a choice between the state-of-the-art high-speed ferry that gets you dock-to-dock in an hour, or the traditional passenger-vehicle ferry. Between Martha's Vineyard and Wood's Hole there are more than a dozen daily departures and passage takes around 45 minutes. Be sure to reserve in advance, especially in high season or with a vehicle.
PLAN YOUR TRIP: Visit Fodor's Martha's Vineyard and Nantucket Guides
Valeriya | Dreamstime.com
Transmediterranea is the leading Spanish ferry service, covering more than 70 routes from Spain's main ports to the Balearic Islands of Mallorca and Ibiza, several port cities in Morocco, and the Canary Islands. Ferryboats include a restaurant, bar and lounge (on certain routes), duty-free shopping, and play areas for kids. Combined bus and boat packages link Spain's major cities with all Transmediterranea destinations, or you can take your car and travel on your own. Online package deals offer steep discounts but tend to sell out quickly, so advance booking is recommended.
PLAN YOUR TRIP: Visit Fodor's Spain Guide