Courtesy of Regent Seven Seas Cruises
It's a new year, with new horizons ahead—which can be explored quite literally, when you set sail on one of these noteworthy cruises. From innovative new ships to pioneering itineraries, we've sifted through the many cruises making headlines and narrowed them down to the 15 best boats of the bunch. From sampling at-sea superlatives (try the world's largest or "most luxurious" ship) to wow-factor amenities (celebrity-chef eateries, onboard science labs) to far-flung ports of call (Aldabra, anyone?), get ready to book a sailing adventure to remember.
—Elissa Garay
Courtesy of Royal Caribbean International
Royal Caribbean International
What's New: The industry's biggest innovator, Royal Caribbean, has upped the ante for 2016, when it's set to launch the world's largest cruise ship: the 5,497-passenger, 16-deck Harmony of the Seas. The behemoth vessel comes equipped with some repeat recent Royal innovations like the Bionic Bar (helmed by robot bartenders) and LCD-screen "virtual balconies" in inside cabins, but boasts some standout new features, too, like the tallest slide at sea (at 10 stories high), as well as some of the largest staterooms in the company's fleet. The ship debuts in May with an inaugural summer season in the Mediterranean; 7-night itineraries sail round-trip from Barcelona or Rome, calling on popular ports like Naples, Marseille, and more.
Set Sail: Sail the Mediterranean from May through November; rates from $1,017/person. The Harmony moves to Fort Lauderdale come November for weeklong Caribbean sailings.
PLAN YOUR TRIP: Visit Fodor's Royal Caribbean International Guide
Courtesy of Seabourn
Seabourn
What's New: The luxe small ships of Seabourn have always earned high marks, but 2016 elevates the brand to a new level with the December debut of the Seabourn Encore. The 600-passenger, all-suite ship radiates high design, as realized by preeminent hospitality designer Adam D. Tihany, while private verandas trim each stateroom. Gourmands, meanwhile, can indulge at a new French-American restaurant from Michelin-starred American chef Thomas Keller (The French Laundry, Per Se, and Bouchon); Chef Keller-branded restaurants will eventually be rolled out across the entire fleet (the first opens on Seabourn Quest in spring). Be among the first to see what the buzz is about on Encore's pre-inaugural 16-night voyage from Athens to Dubai, with stops in the Holy Land, Jordan, and Oman, including a pass through the Suez Canal. Encore's first season features nine unique itineraries in all, in Indonesia, the South Pacific, Australia and New Zealand, and more.
Set Sail: The pre-inaugural "Holy Land & Arabian Gems" itinerary embarks December 4, 2016; rates from $6,999/person include fine wines and spirits, and crew gratuities.
PLAN YOUR TRIP: Visit Fodor's Seabourn Cruise Line Guide
Courtesy of Carnival Cruise Line
Carnival Cruise Line
What's New: Carnival's first new ship in four years, the 3,954-passenger Carnival Vista (the largest in its fleet) will operate the line's first European itineraries since 2013. On board, look for a slate of notable new features, including SkyRide, a suspended, pedal-powered outdoor cycling experience; the first IMAX theater on a cruise ship; a raft-riding water tube slide; a dedicated zone for family staterooms; Carnival's first-ever brewery (the RedFrog Pub); and more. Bonus: The ship's "vista" namesake is reflected with ample ocean views at every turn. Its series of 10- to 13-night Mediterranean itineraries embark from Athens, Barcelona, or Trieste, Italy, and feature port calls to Italy, France, Spain, Croatia, Turkey, and beyond.
Set Sail: Mediterranean sailings run from May through October; rates from $819/person. The ship repositions to New York in November 2016, where it will sail 11-night itineraries to the Caribbean, before moving down to its new Miami homeport for a year-round schedule of 6- and 8-night Caribbean cruises.
PLAN YOUR TRIP: Visit Fodor's Carnival Cruise Lines Guide
Courtesy of Regent Seven Seas Cruises
Regent Seven Seas Cruises
What's New: Ultra-luxe line Regent Seven Seas Cruises' new 750-passenger Seven Seas Explorer is being billed as the "most luxurious ship ever built," and for good reason. The list of upgrades is indeed impressive: guests will benefit from some of the most spacious accommodations and the largest balconies in the cruise industry; two new gourmet eateries, including French-specialty restaurant Chartreuse and Asian-inspired Pacific Rim (bringing the total number of onboard restaurants to six); the brand's first culinary instruction center; and a jaw-dropping infinity-edge plunge pool situated at the ship's stern. The ship debuts in July in the Mediterranean (where it runs itineraries through November), but for something a bit different, we especially like its duo of Panama Canal crossings between Miami and LA in December 2016/January 2017.
Set Sail: Book a 15- or 16-night Panama Canal crossing on December 28, 2016 (a perfect New Year's celebration cruise!) or January 15, 2017. Rates from $6,999/person include round-trip airfare from select U.S. cities, ground transfers, alcoholic beverages, shore excursions, gratuities, and Wi-Fi. The ship stays in Miami through winter for a series of 10-night (and longer) Caribbean sailings.
PLAN YOUR TRIP: Visit Fodor's Regent Seven Seas Cruises
Courtesy of Holland America
Holland America
What's New: Come April, Holland America's largest ship to date—the 2,650-passenger MS Koningsdam—will usher in a new class of ship (the Pinnacle Class) for the line, and mark its first ship debut since 2010. On board, look for new features like dedicated family and solo staterooms; a live music hall presented in partnership with Billboard; a wine-blending venue (BLEND, by Chateau Ste. Michelle) where guests can create their own wine; several new eateries (like French seafood brasserie Sel de Mer); chamber music performances coordinated by Lincoln Center; and special onboard programming developed in partnership with BBC Earth. The Koningsdam's inaugural season in Europe (April through October) rotates out a series of 7- to 14-night Mediterranean and Baltic, British Isles, and more Northern Europe itineraries; look out for two especially appealing 14-night Baltic itineraries sailing round-trip from Amsterdam to Copenhagen, Helsinki, Stockholm, St. Petersburg, and more.
Set Sail: Rates for the two "Jewels of the Baltic" sailings (embarking June 19 or September 4, 2016) start at $2,499/person, including classes at the Culinary Arts Center. The ship leaves Europe in November for Fort Lauderdale, where it runs 7- to 11-night Caribbean itineraries through the winter season.
PLAN YOUR TRIP: Visit Fodor's Holland America Line Guide
Courtesy of Celebrity Cruises
Celebrity Cruises
What's New: One of the biggest gripes for cruisers? Having to pull out of port before sundown, when the destination's dining and nightlife scene is just revving up. Celebrity Cruises has answered the call of land-loving night owls by adding overnight stays on more than 40 Caribbean sailings in 2016. Plus, the line has introduced a series of "Evenings Around the World" shore excursions, featuring 14 new Caribbean excursions that take place in the evening (think jazz concerts, boat parties, and bonfires ashore). The overnight calls are featured primarily on a selection of 10- to 14-night sailings aboard the 2,850-passenger Celebrity Eclipse or 2,850-passenger Celebrity Equinox, in ports in Aruba, Barbados, Curaçao, Mexico (at Cozumel), St. Maarten, and Cartagena, Colombia.
Set Sail: Rates from $1,049/person. The Caribbean sailing season with Celebrity runs from January through April, and picks back up again in October 2016.
PLAN YOUR TRIP: Visit Fodor's Celebrity Cruises Guide
Courtesy of Viking Cruises
Viking Cruises
What's New: Viking Ocean Cruises—a new product from the popular Viking River Cruises brand—made a splash when it unveiled its first sleek ocean-going vessel (the Viking Star) in 2015. Her sister ship, the 930-passenger Viking Sea, follows up this spring with many of the same lovely features that made our jaws drop with the Viking Star's debut last year: an infinity pool off the stern, Snow Grotto spa room, luminous Wintergarden tearoom, and all-balcony staterooms. Sail the Viking Sea around Europe for its inaugural season—we especially love their 14-night, six-country "Bergen to the Bosphorus" itinerary that connects Nordic and Turkish cities, with stopovers in Paris, Lisbon, Athens, and Valletta, Malta.
Set Sail: Cited itinerary sails on July 16, 2016; rates from $3,699/person include guided excursions, Wi-Fi, and wine/beer/soft drinks with meals. Viking Sea sails Europe from April 2016 through early 2017.
PLAN YOUR TRIP: Visit Viking Ocean Cruises
Andy Stringer / QuarkExpeditions.com
Quark Expeditions
What's New: Set out on an incredible Arctic voyage aboard the 110-passenger Kapitan Khlebnikov, one of the world's most powerful icebreakers (it was the first ship to circumnavigate Antarctica with leisure passengers, in 1997), which returns to tourism after a multiyear hiatus. Via Quark Expeditions, guests sail through the Northwest Passage from Canada to Russia to Alaska this September, on an epic 17-night journey from Ottawa, Canada, to Anchorage, Alaska. Excursions highlight Arctic wilderness and wildlife (polar bears! whales!), as well as indigenous cultures, with visits to Canadian Inuit and Russian Yupik and Chukchi communities. Bonus: Included flightseeing excursions soar over the Northwest Passage itself (the ship claims two onboard helicopters).
Set Sail: Expedition embarks September 6, 2016. Rates for this splurge-worthy sailing are $20,695/person (plus charter flight), including alcoholic beverages, all excursions (including helicopter flightseeing excursions), on-loan expedition boots, a keepsake parka, and insurance.
PLAN YOUR TRIP: Visit Quark Expeditions
Courtesy of Windstar Cruises
Windstar Cruises
What's New: Montserrat was dubbed the "Pompeii of the Caribbean" after a devastating volcanic eruption buried the island's capital city in 1995. In 2016, the island is being revived as a must-see Caribbean cruise destination, thanks in large part to Windstar Cruises, the first cruise company to make regular calls to Montserrat in the 20 years since the eruption. Choose from two brand-new, Montserrat-inclusive 7-night Caribbean itineraries ("San Juan and the Virgin Islands," sailing round-trip from San Juan, Puerto Rico, or "Caribbean Hideaways" from San Juan to Bridgetown, Barbados) aboard the newly refurbished 212-passenger Star Legend. Shore excursion options in Montserrat explore the effects of the lava flow on the isle, including a visit to its "buried city."
Set Sail: The Montserrat-inclusive itineraries started in December 2015 and will run through February 2016 (they return again for the winter season in December 2016). Rates from $1,799/person include use of water sports equipment and an exclusive Windstar-hosted event ashore.
PLAN YOUR TRIP: Visit Fodor's Windstar Cruises Guide
Courtesy of Alaskan Dream Cruises
Alaskan Dream Cruises
What's New: Owned and operated by an Alaska Native family, Alaskan Dream Cruises incorporates the revamped Chichagof Dream (formerly a Cruise West ship) into its five-ship fleet this June. (The new acquisition, with just 74 passengers, will be the small-ship line's largest vessel.) Experience the Chichagof Dream via its 7-night "Alaska's Glacier Bay & Island Adventure" cruise, running between Sitka and Juneau, with wildlife- and nature-driven exploration of Glacier Bay National Park, Tracy Arm Fjord, and more. Itineraries include visits to indigenous communities and visits to related sites, like the world's tallest totem pole. Also new for 2016 is the debut of the line's "True Alaska Exploration" itinerary model that includes unscripted stops and beach landings for activities like kayaking, hiking, whale-watching, and more.
Set Sail: The cited itinerary runs from June through September in 2016; rates from $3,989/person include shore excursions, wine/beer with dinner, airport transfers, and use of recreational equipment.
PLAN YOUR TRIP: Visit Alaskan Dream Cruises
Anthony Amos
Silversea Cruises
What's New: Silversea, a leader in exotic, ultra-luxury Africa cruises, is launching a new expedition in December 2016 that incorporates a visit to an array of far-flung African and Asian locales, including no fewer than five different UNESCO World Heritage Sites. Cruise the intimate 120-guest Silver Discoverer (part of the line's expedition fleet) on a brand-new 17-night voyage from the Maldives (in Asia) to Tanzania, for a rare visit to Aldabra, in the Outer Islands of the Seychelles, where guests will have two days to explore the UNESCO-protected marine sanctuary of the world's second-largest atoll. The ship, equipped with 12 Zodiacs, calls upon several additional stops throughout the Maldives, Seychelles, Mayotte, Mozambique, and Tanzania, where additional UNESCO sites visited include the Vallée de Mai Nature Reserve (in the Seychelles), Kilwa Ruins (Tanzania), Mozambique Island, and Stone Town (Zanzibar, Tanzania).
Set Sail: This holiday/New Year's Eve expedition embarks on December 17, 2016; rates start at $13,185/person, including all tours and activities, alcoholic beverages, use of expedition gear, butler service, and gratuities.
PLAN YOUR TRIP: Visit Fodor's Silversea Cruises Guide
Courtesy of Crystal Cruises
Crystal Cruises
What's New: The 62-passenger Crystal Esprit, which debuted in December 2015, marks the first vessel in Crystal Cruises' expansion to include a new category of smaller yacht-based sailings (via their new Crystal Yacht Cruises arm). On board, the ship touts all-suite accommodations; a new menu anchored on locally sourced ingredients; and perhaps most notably, an onboard marina equipped with equipment and toys like Zodiacs, wakeboards, ocean kayaks, Jet Skis, snorkeling equipment, fishing gear, and get this: a two-passenger submarine (not to worry, there's room for the pilot, too)! We especially like her 7-night Adriatic voyages, sailing between Venice and Dubrovnik from March through early November; additional port calls cover stops in Slovenia, Montenegro, Cyprus, and Turkey.
Set Sail: Weeklong Adriatic cruise rates start at $3,920/person, including alcoholic beverages, gratuities, use of water sports equipment, choice of shore excursions, and butler service. Apart from its December 2015 debut in the Seychelles, the Esprit will spend 2016 exploring more locales throughout the Indian Ocean, Mediterranean, the Holy Land, and more of the Middle East/Persian Gulf.
PLAN YOUR TRIP: Visit Fodor's Crystal Cruises Guide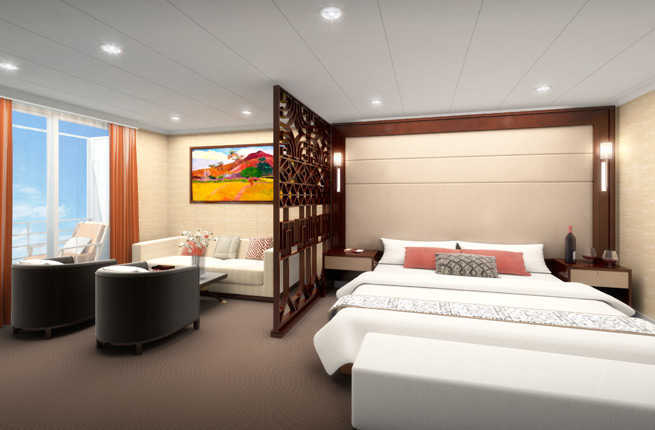 Courtesy of Aranui 5
Aranui 5
What's New: French Polynesia has long beckoned adventurous travelers with its unique cruises aboard the dual-purpose passenger–freighter ship, Aranui 3. Travelers in 2016 can experience the same thrills aboard an upgraded version of the vessel, courtesy of the 254-passenger Aranui 5, which debuted in December 2015. Set out on 13-night itineraries, sailing round-trip from Papeete, Tahiti, with stops in Bora Bora (in the Society Islands), and several remote isles throughout the Marquesas Islands and Tuamotu Archipelago. While the ship brings supplies to islanders en route, passengers can participate in the guided shore excursions (waterfall hikes, artisan visits, etc.) that are included in each port. On board, guests enjoy the services of a largely Polynesian crew and a ship equipped with four bars, an outdoor swimming pool (with whirlpool), fitness room, and more.
Set Sail: Itineraries embark 17 times year-round; rates from $2,781/person, including wine with meals, guided shore excursions, and select onshore meals at area restaurants.
PLAN YOUR TRIP: Visit Aranui 5
Hurtigruten/Nina Helland
Hurtigruten
What's New: Hurtigruten, which specializes in voyages to Norway, Greenland, and Antarctica, is amping up its presence in the southern hemisphere in 2016. The line's MS Midnatsol, with a capacity for 500 guests, will mark the line's second ship to cruise Antarctica, making them one of the region's largest and most diverse travel providers. Embark on a series of 15- to 18-night itineraries to Antarctica sailing round-trip from Punta Arenas, Chile, with additional weather-dependent visits to the Chilean fjords, Strait of Magellan, Cape Horn, and more. Active guided excursions—hiking, kayaking among icebergs, snorkeling with sea lions—are conducted either by Zodiacs or Hurtigruten-exclusive Polarcirkel craft. On board, enjoy amenities like a Jacuzzi, two-story panorama lounge, and a brand-new interactive science lab, where guests can partake in expert-led field experiments. The lab is part of the line's newly upgraded "Discovery" style of cruising, which has also added more experts on board (meaning more scientific lectures and guides), and a Young Explorers Antarctica Program for kids ages 7 to 13.
Set Sail: Choose from 10 Antarctic itineraries between September 2016 and April 2017. Rates start at $5,750/person, including guided excursions in Antarctica, connecting flights, and pre-cruise overnight hotel stay.
PLAN YOUR TRIP: Visit Fodor's Hurtigruten Guide
Jeff Reynolds / Maple Leaf Adventures
Maple Leaf Adventures
What's New: Launched in 2015 by Canada-based Maple Leaf Adventures, the gorgeous little MV Swell tugboat has been brilliantly reimagined as a plush 12-passenger vessel. The 112-year-old boat touts wooden finishings, an aft-deck hot tub, and an open-to-guests wheelhouse, while a private chef and onboard naturalist cater to guests. Sail its newest itineraries in 2016 to British Columbia's little-visited Great Bear Rainforest, where nature and culture lovers can discover the fjords and islands, as well as First Nations cultures. A trio of available itineraries vary slightly, but may include highlights like a visit to a remote whale research station, or to an inlet frequented by grizzly bears.
Set Sail: Great Bear Rainforest–inclusive itineraries, available from April through May, range from 6 to 7 nights, and embark from several ports in British Columbia (Vancouver Island, Bella Bella, or Kitimat). Rates start from $2,560/person, including wine and beer, excursions, and use of kayaks and fishing gear.
PLAN YOUR TRIP: Visit Maple Leaf Adventures