Marc Domage
As the contemporary art scene grows bigger and more international with each passing year, new global art fairs seems to pop up every season. But quantity doesn't always equal quality, so we've handpicked the best art fairs around the globe. Whether you're a major collector or just curious to see the latest and greatest artwork being made all over the world today, these fairs are worth making a trip for.
By Shana Beth Mason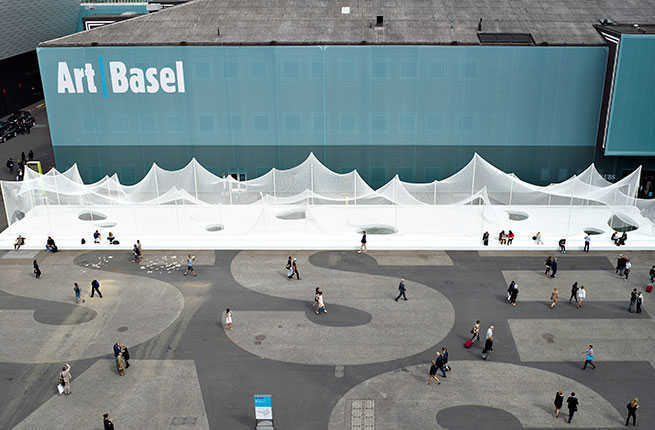 ©Daniela Tonatiuh and MCH Messe Schweiz (Basel) AG
When: June 18–21, 2015
The big (Swiss) cheese of the world's contemporary art fairs, Art Basel debuted in 1974, following the first-ever art fair, Art Cologne. Today, it's ballooned into an international extravaganza with two satellite editions; Art Basel Miami Beach launched in 2002, and Art Basel Hong Kong was born in 2011. It's not just the grade of high-priced, high-profile art that appears at all three fairs—you could buy a genuine Picasso or Warhol if your checkbook allows it—but also the swirl of VIP events and celebrities surrounding the fairs that has accelerated its global prominence: Jay-Z and Beyoncé, Leonardo DiCaprio, Michael Douglas and Catherine Zeta-Jones, P. Diddy, Martha Stewart, and Pharrell are all Art Basel veterans.
PLAN YOUR TRIP: Visit Fodor's Basel Guide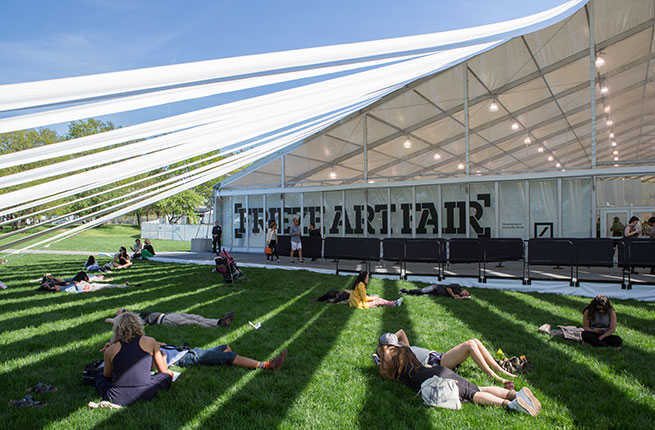 Courtesy of Marco Scozzaro/Frieze
When: October 15–18, 2014
The first major art fair to be held in the U.K., Frieze London was founded in 2003 by the publishers of frieze magazine, Amanda Sharp and Matthew Slotover. Housed inside Regent's Park, Frieze features three sections: the main Galleries section, Focus (highlighting young galleries), and Live (where "participatory works" are put into an "art fair context"). Satellite fair Frieze New York debuted in 2011 in a pavilion stationed on Randall's Island. In both locations, a series of sculpture projects is commissioned for the fairgrounds every year. 2012 saw the debut of Frieze Masters, which gives galleries a chance to showcase artwork created before the year 2000 in conjunction with Frieze London.
PLAN YOUR TRIP: Visit Fodor's London Guide
Enrico Frignani
When: November 7–9, 2014
Having celebrated its 20th anniversary in 2013, ARTISSIMA is one of Europe's oldest art fairs. Though it tends to favor galleries and institutions from the E.U. and the United Kingdom, there are also programs that come from Brazil, China, Israel, Japan, Russia, and the U.S. For the past five years, ARTISSIMA has been held at The Oval in Turin (one of the 2006 Winter Olympics venues), with five sections at the venue itself, with other projects taking place at public and private institutions in the surrounding area, like the Museo d'Arte Contemporanea at the Castello di Rivoli.
PLAN YOUR TRIP: Visit Fodor's Turin Guide
Marc Domage
When: October 23–26, 2014
Launched in 1974 (the same year as Art Basel) FIAC (Foire Internationale d'Art Contemporain) is housed in the glamorous venues of the Grand Palais, the Tuileries, and the Jardin des Plantes. The inaugural FIAC Los Angeles will be held in March 2015 and will likely be the first globally minded, truly prestigious art fair to grace the City of Angels.
PLAN YOUR TRIP: Visit Fodor's Paris Guide
Benjamin Lozovsky/BFAnyc.com
When: December 4–7, 2014
A hipster haven on the art fair circuit, NADA is where global institutions, curators, critics, and collectors look for "the next big thing" in contemporary art. The nonprofit collective of artists, galleries, institutions, and collaboratives has branched out with editions in New York City, Cologne, and Hudson, New York, but it launched in Miami in 2003. In the highbrow, fashion-forward world of contemporary art, NADA prides itself on being free, but for young, international galleries seeking entry, competition is fierce.
PLAN YOUR TRIP: Visit Fodor's Miami Guide
Kristof Vrancken/Art Brussels
When: April 25–27, 2015
Another European art fair veteran, Art Brussels hosted its 32nd edition this year. The fair shows off the very active contemporary art scene in Belgium and the Netherlands, which often gets overlooked in favor of older forms of visual art (such as the revered Old Masters and tribal and indigenous arts).
PLAN YOUR TRIP: Visit Fodor's Brussels Guide
Courtesy of Nicholas Winter Photography
When: June 15–20, 2015
The art fair VOLTA has seen some exciting young talent burst onto the international arts stage in the last few years. Its launched in Basel in 2005, with sister fair VOLTANY opening three years later. The galleries and the artists showing here are not famous or multi-million-dollar operations when comapred with other fairs, but there is less pressure, resulting in artwork and projects that are daring, affordable, and fun.
PLAN YOUR TRIP: Visit Fodor's Basel Guide
courtesy of UNTITLED.
When: December 3–7, 2014
Art Basel Miami Beach might have been the first art fair to land in Miami, but UNTITLED was the first to park on the beach itself (literally, it sits on the sands off Ocean Drive between 10th and 12th Street). Inside a minimal, elegant pavilion designed by architecture firm K/R, director Jeff Lawson and lead curator Omar Lopez-Chahoud host a forward-thinking art fair concept within a communal, approachable space (a fun visitor's perk is a mobile charging station that looks like an upside-down jellyfish dangling its tentacles). The first edition debuted in 2012, and is one of the highlights during Miami's December art fair rush.
PLAN YOUR TRIP: Visit Fodor's Miami Guide
Tom Powel Imaging
When: March 2015
One of the most intellectually challenging contemporary art fairs, Independent New York is made up of a handful of international galleries from locales such as London, New York, Istanbul, and Berlin. The first edition was held in 2010 and the fair caters mainly to experienced contemporary art enthusiasts. For those brave enough to withstand the sky-high-mindedness, the fair opens during the first or second week in March.
PLAN YOUR TRIP: Visit Fodor's New York City Guide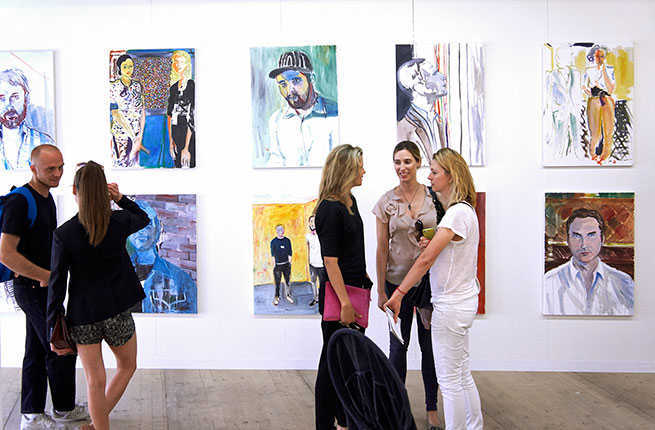 Courtesy of LISTE – Art Fair Basel & Daniel Spehr
When: June 16–21, 2015
Consider this show Art Basel's little sister. Founded in 1997, Liste showcases the most avant-garde visual art during the global summer-art-fair stretch. It describes itself as having an "intentionally low number" of 78 exhibitors; another way of saying, "we're too cool for school". So cool, in fact, that it has never branched out of its home in Basel, and probably never will.
PLAN YOUR TRIP: Visit Fodor's Basel Guide