Hammond-Harwood House - A Mini-Trip
Sep 17th, 2022, 12:21 PM
Join Date: Jun 2008
Posts: 28,200
Likes: 0
Received 0 Likes on 0 Posts
Hammond-Harwood House - A Mini-Trip
---
For as long as I have posted on Fodor's, I have sung the praises of Annapolis, Maryland. With a population of around 41,000, this state capital boasts a wealth of resources you would expect in a large city: a one-time Capital of the United States, Colonial homes, a charming center on the Severn River, and much much more, including the Hammond-Harwood House ("HH"). Here's a link for Mr. Hammond:
https://hammondharwoodhouse.org/learn/history/
My mini trip was with a reception for The Mitchell Gallery in St. John's College (another Annapolis venue to read about:
https://www.sjc.edu/
) Guests were directed to meet at St. John's Gym parking lot where we were transported by electric busses furnished by Annapolis Event Tours (443 510 1348). The driver claimed that Annapolis has more historic homes than Philadelphia, but who knows?
Anyhow, we are dropped off at this gorgeous home...one center structure with 2 wings are too large for my old camera:
In addition to the Gallery reception, we will be able to take advantage of the Charles Willson Peale exhibit:
---
Last edited by TDudette; Sep 17th, 2022 at

12:24 PM

.
Sep 17th, 2022, 01:57 PM
Join Date: Jan 2003
Posts: 3,360
Likes: 0
Received 0 Likes on 0 Posts
Tdudette—

Thanks for the mini-trip report. I believe the Hammond-Harwood House was closed when I went to Annapolis. The Peale exhibit looked interesting; I had never heard of the artist before.

Best wishes

Daniel
Sep 17th, 2022, 03:07 PM
Join Date: Jun 2008
Posts: 28,200
Likes: 0
Received 0 Likes on 0 Posts
Sorry you missed HH, Daniel...it's very nice inside and the backyard is sooo pleasant. The Paca House is much more complete and staffed. I can't remember if you saw that.

More to come!
Sep 18th, 2022, 12:11 PM
Join Date: Jun 2008
Posts: 28,200
Likes: 0
Received 0 Likes on 0 Posts
Thanks, GinnyJo. When you (and everyone) visit Annapolis, I can try to help a bit with hotel locations...how far to the water, shopping, etc.
The gentleman in the second picture above directed us to the back yard:
Very similar to the front but a less fancy door.
Gorgeous mature boxwoods invited one to relax. The back is about as wide as the front. Terraces for food, signing in, and tent for drinks. Weather was superb 70s and no humidity.
This reception was one of the first since Covid. Inside, I took a quick walk about:
I loved this letter from Peale. It is in the room with more of his painting.
A gorgeous dining room.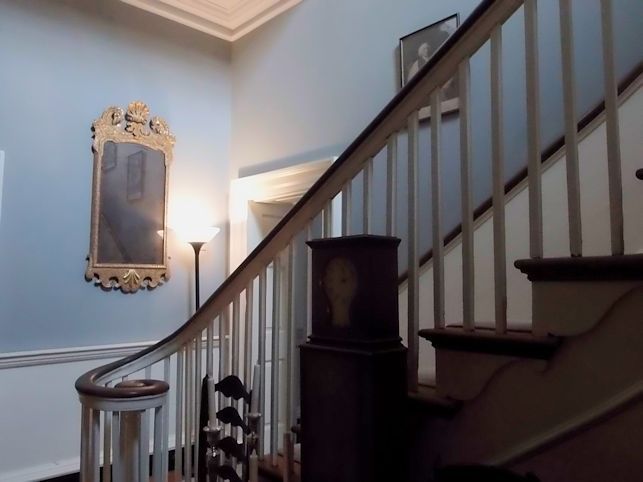 I can't remember to which part of the HH these stairs take you.
I removed the portrait of Washington, lightened it, then pasted it back.
The exhibit will be here through December 31, 2022 so do visit it and this often overlooked gem of a space. As I wrote above, as a commuter, I can only suggest the distances of hotels. Covid has changed what restaurants are still open as well.